Meet The Traitors US cast: who are the traitors and who are the faithful?
Check out the celebs and civilians trying to overcome lies and treachery to win.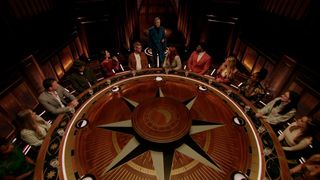 (Image credit: Peacock)
If you're in need of another reality competition show to watch that is chalked full of lies, manipulation and schemes, much like Big Brother or Survivor, then The Traitors may be the perfect series for you.
Based on a Dutch program of the same name and reach recently got a UK version of The Traitors US that was a smash hit, the new Peacock reality series follows 20 contestants as they compete in games in an effort to win cash prizes. The catch is that three of the contestants are secretly "traitors" who attempt to stop the rest of the players from winning any money.
Interested in meeting The Traitors US cast? Take a look below.
The faithful
Arie Luyendyk Jr.
While the world may know Arie as a former contestant on The Bachelorette season 8 and as the bachelor from The Bachelor season 17, before his stint in reality television he was a professional racecar driver who raced in competitions like the Indianapolis 500. Currently, he deals in luxury real estate.
Brandi Glanville
The Real Housewives of Beverly Hills alum was a series regular on the franchise for three seasons and has been featured in a number of other popular reality shows including Celebrity Apprentice, Celebrity Big Brother and Real Housewives Ultimate Girls Trip. Brandi also fronts her own podcast, What Else but Brandi Glanville Unfiltered.
Kate Chastain
Kate is a name that should be instantly recognizable to Below Deck fans. She was last seen on Bravo as the chief stew on the series before leaving after six seasons.
Kyle Cooke
Kyle is a staple of Winter House and Summer House. He is also the founder of the adult beverage brand Loverboy.
Rachel Reilly
Rachel is a TV host, fashion designer and actress who has reality TV competition experience under her belt. She has won Big Brother, Fear Factor and Snake in the Grass.
Reza Farahan
If you've seen Shahs of Sunset, then you know Reza. For the entirety of the series, he was front and center among the friend group on the show. Reza is also the owner of the luxury hair care line Reza Be Obsessed.
Ryan Lochte
Ryan is a 12-time Olympic medalist. Of the swimmer's medals, five are gold, and he also holds the world record in the 200 individual medley.
Stephenie LaGrossa Kendrick
Stephenie has been on Survivor three times and has competed on the reality show Snake in the Grass. For Phillies fans, she's also married to former pitcher Kyle Kendrick.
Michael Davidson
Michael is a DMV office manager currently residing in Oneida, Ky. The single father of three loves rock climbing, cooking, traveling and funny enough, he is a fan of reality TV.
Andie Thurmond
Andie is a director of music services in Reno, Nev. They have a four-month-old daughter with their wife, and is a huge fan of music, fashion and farming.
Quentin Jiles
Quentin is a political analyst residing in Houston, Texas. He's been featured on Sister Circle Live, NBC LX, CBS Affiliate's WUSA 9's Great Day Washington. He currently hosts his own show The Queue with Que.
Shelbe Rodriguez
Shelbe is "up for any adventure that comes her way." She lives in Beaumont, Texas, is a public affairs manager and is the mother of a "sassy" 5-year-old.
Geraldine Moreno
Geraldine is a social media content creator and actress hailing from North Hollywood, Calif. She has a fondness for hiking and dancing, and she is "extremely competitive."
Robert "Bam" Nieves
Bam is a tech sales executive from Rye, N.Y. He is an adrenaline junky of sorts and brags there's nothing he wouldn't try at least once, including skydiving over volcanoes.
Anjelica Conti
Anjelica is a Staten Island hair stylist who considers herself to be "dramatic in the best of ways." She claims to be able to spot lies through social queues, which will benefit her in The Traitors.
Azra Valani
Azra was born in Kenya, raised in Toronto and currently lives in Los Angeles. She's a yoga instructor and was a finalist for Miss World Canada.
Amanda Clark
Amanda is an Emergency Room nurse who served on the front lines of the pandemic. She currently lives in Carlisle, Pa., and is fond of solving murder mysteries, puzzles and escape rooms.
The traitors
Cirie Fields
Cirie was bold enough to compete on Survivor four different times, although she unfortunately was never able to win. Beyond competing in the great outdoors, she is also a nurse.
Cody Calafiore
Although Cody finished in second place during Big Brother season 16, he later competed in Big Brother All Stars in 2020 to win. He also entered the acting world and can be seen in Joy & Hope.
Christian De La Torre
Christian is a retired Army veteran living in Los Angeles. Since leaving the military, he has become quite the adventure enthusiast, hiking the Italian coast, camping in US National Parks and rock climbing.
Episodes of The Traitors US are now streaming on Peacock.
Get the latest updates, reviews and unmissable series to watch and more!
Terrell Smith has a diverse writing background having penned material for a wide array of clients including the federal government and Bravo television personalities. When he's not writing as Terrell, he's writing under his pseudonym Tavion Scott, creating scripts for his audio drama podcasts. Terrell is a huge fan of great storytelling when it comes to television and film. Some of his favorite shows include The Crown, WandaVision, Abbot Elementary and Godfather of Harlem. And a fun fact is he's completely dialed into the TLC 90 Day Fiancé universe.
Thank you for signing up to Whattowatch. You will receive a verification email shortly.
There was a problem. Please refresh the page and try again.