The Real Housewives Ultimate Girls Trip season 3 cast revealed and a surprise addition excites fans
With the recent news of Tinsely Mortimer dropping out of the cast, her announced replacement has Housewife fans applauding.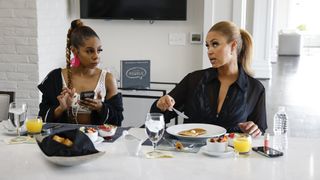 (Image credit: Paul Morigi/Bravo)
We haven't even wrapped the entertaining chaos that is The Real Housewives Ultimate Girls Trip season 2 yet and still producers are rolling along with season 3 of the show, as the cast for the next season has been revealed.
While fans of the series have heard rumors that the next season was happening, there weren't any confirmations as to which housewives would be included in the mix. This naturally led to wild speculations. A number of people on Twitter even put together a cast list for season 3 that featured Phaedra Parks, along with some other RHUGT vets.
Okay but here me out. Vicki, Tamra, Ramona, Bethenny, Rinna, Kyle, Eva, Phaedra, Theresa and Melissa pls lord yes perfection @queensofbravo #RHUGT3June 30, 2022
For all those hoping The Real Housewives of Atlanta alum would be back, we're sorry to be the bearer of bad news, but she's not coming. In fact, initially, no one in the new cast was representing the Atlanta show, The Real Housewives of New Jersey or The Real Housewives of Beverly Hills. That was a bit of a shocker considering these three franchises have historically put up big numbers for Bravo.
However, as of July 14, People exclusively reported that Tinsley Mortimer would no longer be a part of the season 3 cast for "personal reasons." With her exit from the show came the welcomed announcement that RHOA fan-favorite Porsha Williams would be her replacement.
Check out the full list of the RHUGT season 3 cast below.
The Real Housewives Ultimate Girls Trip season 3 cast
As reported by ET, the eight women coming together to enjoy a vacation full of drama are the following: Real Housewives Of Potomac stars Gizelle Bryant and Candiace Dillard-Bassett, Real Housewives of Salt Lake City stars Heather Gay and Whitney Rose, Real Housewives of New York stars Leah McSweeney, Real Housewives of Miami stars Alexia Echevarria and Marysol Patton and Real Housewives of Atlanta star Porsha Williams.
Image 1 of 8
At an initial glance, with the exception of Porsha and Leah, it appears the pairs from each city are friends. So you think there shouldn't be too much shade thrown between the ladies of the same series. However, upon closer inspection, the coupling of Gizelle and Candiace has the potential to be a bit explosive.
On their own show, the two women tend to act like frenemies and aren't strangers to arguing with each other. It seems like if the producers wanted continuity with their obvious "friend duo" theme, they would have paired Gizelle with Robyn Dixon or Candiace with Wendy Osefo. However, we're sure the producers have something in mind with the current cast selected.
We should also note, that with Porsha now in the mix, many eyes will be watching her dynamic with the Potomac ladies. While she and Gizelle are good friends, Porsha and Candiace have definitely exchanged some not-so-nice critiques of one another on social media. (That's not surprising considering Porsha is good friends with Monique Samuels, and Monique and Candiace are like oil and water.)
Fans react to The Real Housewives Ultimate Girls Trip season 3 adding Porsha to the cast
Prior to the announcement that Porsha was added as a member of the RHUGT cast, some fans weren't happy with the announcement of the other season 3 participants with Tinsely.
I have zero interest in LITERALLY 75% of this cast 🥴 #RHUGT3 https://t.co/JPhOeVIsZmJuly 3, 2022
not leah, heather, & whitney being confirmed for #RHUGT3 #RHUGT … pic.twitter.com/MyOG9A0EN4July 8, 2022
Now with Porsha slated to star on the third season, fans seem to be changing their tune.
Candiace Dillard Bassett and Porsha Williams on #RHUGT3 together will be TV magic. I'm ready for mess. 😍 pic.twitter.com/YrEv2pLBffJuly 14, 2022
#RHUGT 3 News: Tinsley Mortimer is OUT, Porsha Williams is IN! I'm screaming!!! https://t.co/x2zUkOilLGJuly 14, 2022
#RHUGT 3 News: Tinsley Mortimer is OUT, Porsha Williams is IN! I'm screaming!!! https://t.co/x2zUkOilLGJuly 14, 2022
While we wait for the upcoming new season to be filmed, edited and rolled out, don't forget RHUGT season 2 is currently streaming on Peacock. Dorinda Medley and Brandi Glanville aren't exactly holding back.
Get the What to Watch Newsletter
The latest updates, reviews and unmissable series to watch and more!
Terrell Smith has a diverse writing background having penned material for a wide array of clients including the federal government and Bravo television personalities. When he's not writing as Terrell, he's writing under his pseudonym Tavion Scott, creating scripts for his audio drama podcasts. Terrell is a huge fan of great storytelling when it comes to television and film. Some of his favorite shows include The Crown, WandaVision, Abbot Elementary and Godfather of Harlem. And a fun fact is he's completely dialed into the TLC 90 Day Fiancé universe.