Play TV Times Strictly Blackpool Bingo!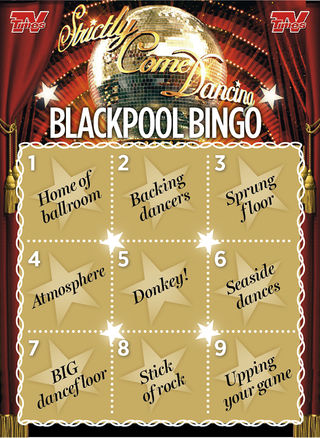 Strictly Come Dancing takes its annual trip to the seaside this week (Saturday 6.50pm BBC1), when the nation's favourite show takes over Blackpool's world-famous Tower Ballroom.
And you can enhance your enjoyment of this glitzy dance extravaganza by playing TV Times Strictly Blackpool Bingo.
HOW TO PLAY: Just print off our card, grabber your dobber and mark off the events as they happen (details below the card).
Best of luck everyone!
1 Home of ballroom
Someone calling Blackpool "The home of ballroom dancing" (Bonus point for use of the word "iconic")
2 Backing dancers
Random extra dancers helping out with a routine and using the extra floor space, provided by the "iconic" seaside venue (see below)
3 Sprung floor
Mention of the extra-springy dancefloor improving the jives and lifts
4 Atmosphere
Tess describing the atmosphere as electric/amazing/incredible
5 Donkey!
A pre-recorded video filmed on Blackpool beach featuring a world-famous Blackpool donkey
6 Seaside dances
Re-naming of dances in tribute to the "iconic" seaside venue – eg. "Kiss Me Quick-step", the "Waltz-er" etc
7 BIG dancefloor
Any talk of using / covering / exploring / talking advantage of / being intimidated by the world famous, "iconic", and, above all, bigger dancefloor
8 Stick of rock
A presenter or judge (probably Len) saying, "If you were a stick of Blackpool rock you'd have talent/winner/dancer written right through you" or similar
9 "Upping your game"
Any reference to someone "upping" their "game" for Blackpool
For TV Times seaside special featuring our exclusive Strictly Blackpool shoot and interview with Kellie, Jay and Anita, download our latest issue here
Get the latest updates, reviews and unmissable series to watch and more!
Thank you for signing up to Whattowatch. You will receive a verification email shortly.
There was a problem. Please refresh the page and try again.