Watch College Football games online with ESPN+
By Roy Delgado
From the Northeast to the Sun Belt, ESPN+ covers college football across the USA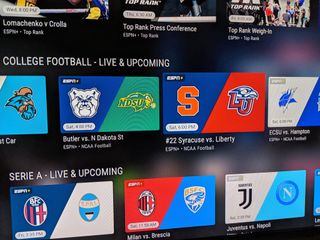 College football is big fun, and a big deal for alumni and locals dedicated to their school. That love goes beyond the teams and conferences that get most of the attention on TV. You can watch exclusive games online this season, and get extra coverage of your school. Here is what you need to know to watch college football games live streaming on ESPN+ .
This week's ESPN+ College Football games
Week 6
All times shown are Eastern
Saturday, October 10, 2020
7 p.m., East Carolina vs. South Florida, ESPN+
ESPN+
The cost: $6 a month alone, or $13 a month in the Disney Bundle with Disney+ and Hulu.
Watch ESPN+ on: Apple TV, Android TV, Amazon Fire TV, Chromecast, Roku, Xbox One, PlayStation 4, Samsung smart TVs, iOS, Android, browsers and more.
College Football on ESPN+ ESPN+ will stream exclusive college football games throughout the 2020 season.
ESPN+ college football games this season will include teams from the following conferences:
Big 12
Big South
Conference USA
Ivy League
MAC
MEAC
Missouri Valley
Northeast
Ohio Valley
Southern
Southland
Southwestern
Sun Belt
You may see teams from other conferences when they are the visiting team playing against a team from a featured conference. Also, some of the above conferences have delayed or postponed their 2020 Fall Football season due to the effects of the pandemic.
ESPN+ is a great way to catch the action from UFC, Top Rank boxing, and pro team sports including MLB and NHL. ESPN+ is also the exclusive home of the Lamar Hunt U.S. Open Cup along with more great soccer from MLS, Italian Serie A, the FA Cup, and the English Championship League.
The ESPN app is the best way to watch everything ESPN+ on every screen imaginable. The ESPN app can be installed on the most popular devices, including major streaming platforms and game consoles such as Apple TV, Android TV, Fire TV, Roku, PlayStation 4 and Xbox One. You can also stream ESPN+ on your TV by controlling it with your phone using support for either Chromecast or AirPlay .
ESPN+ costs $6 a month, which includes exclusive college football games this season. You can save and get more streaming by getting ESPN+ as part of the Disney Bundle with Disney+ and Hulu. There will be college football action every weekend of the season, so ESPN+ is worth a try if you like football.
Our Top Pick
ESPN+ offers exclusive College Football live streams weekly, along with loads of other live sports, new originals and documentaries above and beyond regular TV. Save big when you get ESPN+ in the Disney Bundle with Disney+ and Hulu.View Deal
Get the latest updates, reviews and unmissable series to watch and more!
Thank you for signing up to WhatToWatch. You will receive a verification email shortly.
There was a problem. Please refresh the page and try again.