The Kardashians: next episode, trailer, cast and everything we know about the new series.
The Kardashians are back and their new show promises drama! (As ever...).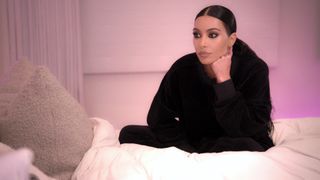 (Image credit: Hulu)
The Kardashians are back! Yes, if anyone was not entirely convinced when the Kardashians announced they'd be retiring from reality TV for good, it was with very good reason.
After inviting us to watch every facet of their lives for 14 years, the decision to stop filming Keeping up with the Kardashians after an incredible 20 seasons, seemed truly groundbreaking. Of course, almost immediately, fan speculation was rife as to their next step. To many people, it was always certain that something would be afoot. And those that held their suspicions were clearly right.
Here's everything we know about the brand new show The Kardashians.
When is the next the Kardashians episode?
The Kardashians premiered on Thursday, April 14 on Hulu. New episodes of season 1 continue to debut on each of the following Thursdays. The season finale of The Kardashians becomes available to stream on Hulu on Thursday, June 16.
Below you'll find an episode guide for the season.
Episode 1: "Burn Them All to the F*cking Ground"
"The cameras are back and rolling with everyone's favorite family. They are navigating through their new normal; motherhood, relationships and career goals. As the family celebrates new ventures, a video from the past resurfaces and threatens to open old wounds."
Episode 2: "Did Somebody Tape That?"
"As Kim rehearses for her Saturday Night Live hosting debut, her past continues to haunt her. Khloé deals with her ongoing anxiety and the scrutiny of being in the public eye. Meanwhile, things with Kourtney and Travis Barker are getting more serious." By the way, check out Amy Schumer's response to Kim's sex tape jokes.
Episode 3: "Live From New York"
"In NYC, As Kim prepares for her SNL debut, an unexpected gesture offers her some much-needed closure. Back in LA, Kris and Khloé learn some details that could put Travis' surprise proposal to Kourtney at risk." Spoiler alert, Kanye does something quite kind.
Episode 4: "We're Celebrating Sex"
"Travis Barker and the whole Kardashian family surprise Kourtney with a marriage proposal in Santa Barbara. With love in the air, Khloé and Kim discuss the next phases of their relationships."
Episode 5: "Who is Kim K?"
"While the whole family celebrates different milestones, one person is feeling left out. Scott must come to terms with his new role in the family dynamic. Kim anxiously prepares for her final attempt at the bar exam." Fans who have seen the episode still can't believe Kendall Jenner's antics in the kitchen.
Episode 6: "This is a Life or Death Situation"
"Kim awaits her bar exam results as she fights to save the life of a man on death row. Kourtney and Travis continue blending their families while Kendall is caught in the middle with Scott."
Episode 7: "Where I've Been and Where I Wanna Go"
"Kim's newfound independence takes her to great heights in the world of fashion. Kris faces a challenge as a mom and manager. Kourtney and Travis explore new avenues on their fertility journey." Are we the only ones that felt bad for Khloé after last week's cringe-worthy moment?
Episode 8: "Never Go Against the Family"
"Khloé coaches Kris through her MasterClass taping while Kim finally opens up about her love life. Kourtney 'Pooshes' her business to the next level with a Goop collab." Also, it looks like fans were not fanning over last week's "middle-class excursion."
Episode 9: "Bucket List Goals"
"Kim lands in paradise to shoot a highly anticipated cover, while Khloé and Kourtney focus on their brands. Shocking news about Tristan is revealed." By the way, did you read just how Kim and Pete actually started dating?
Episode 10: "Enough is Enough"
"As the season wraps up, Kris embarks on yet another new business venture. Khloé faces gut-wrenching news that throws her plans for a bright future into turmoil." While in the last episode viewers ended with the Tristan paternity news, the finale continues on with the fallout.
Where can I watch The Kardashians in the UK?
The new show launches on Hulu in the US which is not currently available to watch in the UK. However, faithful UK viewers will be relieved to hear that the show is streaming on Disney Plus.
What's the Kardashians' new show on Hulu about?
In a characteristically bold move, the most prominent family in reality television announced their new show less than a year after the fond farewell to Keeping up with the Kardashians. The title of the new show has been kept uncharacteristically simple, "The Kardashians." Although let's face it they hardly need any explanation or introduction.
We are already in no doubt of the promise of gloriously high levels of drama about to unfold, thanks to the social media updates of various Kardashians. We know about Kim's high-profile divorce (some acrimonious developments have been already highly publicized) but there's a suggestion there might be more info about her rather surprising new relationship.
There's also a life-changing new romance for Kourtney. And let's not forget the ever-changing landscape of Khloe and her "complicated" relationship, as well as the inevitable announcement of joyful new arrivals. We've also heard hints there'll be more focus on the relationships of the two youngest girls of the family — something that they have previously remained tight-lipped over.
Of course, this business-centric family remains firmly in control of final editing rights, and there seems to be a very conscious attempt to shift attention more towards the family's business matters — in conjunction with the usual family and relationship dynamics. Possibly, they have decided that they deserve recognition for more than "simply" being the first family of reality TV and are trying to show a more rounded view of the family — an evolution from the entertainment brand they started as to the multi-faceted business empire they are today.
Interestingly, it also seems that the family may have had enough of taking a measured response to criticism — are we finally going to see the family fight back?
Who are the Kardashians and why are they famous?
Undisputed masters of self-publicity and social media, the Kardashians have made their living and firmly established their brand, over the years, by (over) sharing their personal lives with the world. And, considering the brand was borne out of the notoriety of a murder trial in the 1990s (Robert Kardashian was O. J. Simpson's attorney), followed by the disclosure of Kim Kardashian's sex tape, this family is the ultimate example of how to turn lemons into lemonade.
The Kardashians are obviously of the school of thought that there's no challenge that can't be turned into an opportunity. And, on the whole, nothing seems to be off-limits for public consumption, making them a firm viewers' favorite. From romantic relationships to relationships between family and friends, what we get from them is absolute authenticity, warts and all.
The family is headed up by formidable matriarch Kris Jenner. Alongside her are her three daughters from her marriage to Robert Kardashian (Kourtney, Kim and Khloé Kardashian) and two from her marriage to Bruce (now Caitlyn) Jenner (Kendall and Kylie Jenner). With a lesson in branding seemingly written in the stars ahead of time (all of their names starting with K), this family is truly a force of nature.
Everything they do, and everything that happens to them, seems perfectly positioned to stoke public debate. A highly publicized lifestyle, a plethora of high profile relationships, numerous hugely successful businesses across a variety of industries, a long-running TV show — not to mention numerous spin-offs — and a matriarch who has even trademarked the word "momager".
Is there a Kardashians trailer?
Of course there is. The Kardashians are nothing less than thorough when it comes to promotion.
Who is in The Kardashians cast?
So whose lives can we look forward to seeing unfold this time around?

The trailer has told us a lot... it shows all of the main characters — Khloe, Kim, Kourtney, Kris, Kendall and Kylie — are present and correct. We also know that Scott Disick features. We expect to see the new men in their lives. And anyone concerned with Kourtney's apparent increasing reticence to film last year should worry no more. She's all over the new trailer and it's clear that her new relationship (with Blink-182 musician, Travis Barker) has brought with it brand new energy and attitude to life and filming.
As ever, you have to give them their due. We're all aware that there's a huge element of PR planning but this family is brilliant at delivering entertainment and escapism to viewers through a glimpse into how the other half lives. We're invited along for the highs of their lives, but we're also there during the lowest of their lows. And for that, they should be given the credit that they so rightly deserve.
Get the What to Watch Newsletter
The latest updates, reviews and unmissable series to watch and more!
Dog, wine, cheese and reality TV-loving Brit. Living working and creating memories in SW France about an hour from Bordeaux in the fabulous Charente. Running my own business and writing for magazines and publications. There's nowhere I would rather be and nothing I would rather do...