Steve and Michelle's marital misery escalates in Coronation Street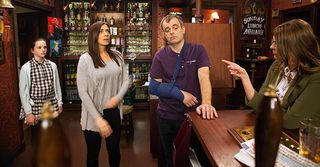 Steve McDonald (Simon Gregson) and wife Michelle (Kym Marsh) have been going through tough times of late in Coronation Street (opens in new tab) and they're no closer to resolving their relationship differences as their problems continue to pile up.
With Michelle deciding to move into Carla's flat to escape the rowing at home, Steve's young daughter, Amy, claims the couple are excluding her, resulting in her fiery mum, Tracy, challenging the pair. An argument ensues as Tracy (Kate Ford) lets rip at Steve and Michelle in the Rovers, resulting in young Amy (Elle Mulvaney) running away...
Will the McDonalds be able to resolve their differences or is this the end for the once-devoted couple?
Amy has had enough of the awful atmosphere at home and Steve and Michelle's constant bickering...
When Tracy finds Amy upset in the Rovers' yard, she confronts Steve and Michelle about her daughter feeling unwanted by them...
But Amy takes flight, unnoticed, as the adults continue to fight among themselves. Will she be OK?
Later, when Steve delivers some of Michelle's belongings to Carla's flat, the couple end up rowing again! Is there no hope for the pair or will they mnage to resolve their differences?
Watch Coronation Street on ITV from Sunday, June 19
Thank you for signing up to Whattowatch. You will receive a verification email shortly.
There was a problem. Please refresh the page and try again.