Amazon Black Friday deal has Prime Video Channels for just $1.99 / 99p
For Black Friday, Amazon has great discounts on Prime Video Channels.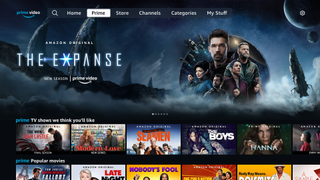 (Image credit: Amazon)
There are some great streaming deals kicking off as part of Black Friday, and one popular recurring one has popped up for Prime Video subscribers.
Amazon's Prime Video lets you customize your viewing experience with subscriptions to different channels, and each lets you view extra movies, TV shows, documentaries or sports, over the base Prime subscription. We've got a whole guide on Prime Video channels here.
Well, for Black Friday, you can now sign up to certain Prime Video channels for cheap — really cheap. In the US, you now only need to pay $1.99 per month for the first two months of your subscription, down from the $4.99 to $7.99 it usually costs. The deal is even better in the UK, where you'll only pay 99p per month for your first three months.
You can see a full list of eligible channels below. Do be aware that you'll need to have an active Amazon Prime subscription in order to take advantage of this amazing deal. If you're not already an Amazon Prime subscriber, you can try Amazon Prime with a 30-day free trial (opens in new tab), just in time for Black Friday.
After that trial, Amazon Prime costs just $14.99/£7.99 a month. You can make big savings with an annual subscription, which costs $139/£79.99 a year.
Which Prime Video Channels are in the Black Friday deal?
UK Prime Video Channels in the deal
US Prime Video Channels in the deal
Other Black Friday streaming and entertainment deals
As Black Friday nears, we're expecting plenty more deals to become available to Amazon Prime customers including huge discounts on Amazon Fire Sticks (opens in new tab), Amazon Fire TV Cubes (opens in new tab)and Amazon Fire Smart TVs (opens in new tab) as well as discounts on movie rentals and purchases.