Treat yourself: Why now is the right time to upgrade to a premium Samsung TV
For the best 4K experience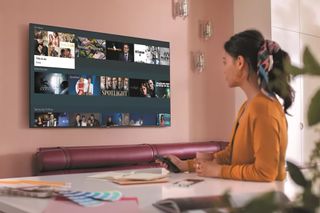 (Image credit: Samsung)
Samsung makes many of the best TVs you'll see on the market. You'll find stunning options both big and small. And, if you're coming from a more budget-oriented device, the difference you'll see in quality will astound you.
Many affordable TVs are now able to offer a 4K picture for excellent visual clarity, and most pair that with some level of smarts to give you easy access to streaming content. Samsung's TVs take that performance to even higher heights. 
On Samsung's premium TVs, it offers an exceptional high dynamic range (HDR) to let you see more detail in bright areas of the screen as well as shadows, and you can perceive over a billion colors on many models. 4K displays are abundant in Samsung's offerings, and it even has 8K models for some of the sharpest visuals commercially available. 
Now, these premium TVs tend to cost a bit more than your average model, but when you're putting amazing films on for movie nights, binging your favorite show, or tuning into the latest sports championship, having amazing picture quality can make it worth the extra cost, especially as we're spending more time at home. That said, now's a great time to dive in, since Dell's steep discounts will make those same Samsung TVs much easier to fit into your budget.
Dell is a trusted brand in electronics, so you can be sure you're not getting a lemon when you buy from its online store. It's deals rival the best online sales out there, so, if you want to see your shows and movies like you've never seen them before, have a look at some of these deals on premium Samsung TVs.
If any of these deals stick out to you, you should act fast. Deals like this don't tend to last forever. Many of these deals have carried over from Dell's Labor Day sales event, and since Labor Day is well behind us, these deals could become a thing of the past any day now.
Get the latest updates, reviews and unmissable series to watch and more!
Thank you for signing up to WhatToWatch. You will receive a verification email shortly.
There was a problem. Please refresh the page and try again.