Coronation Street spoilers: Michelle confronts Robert Preston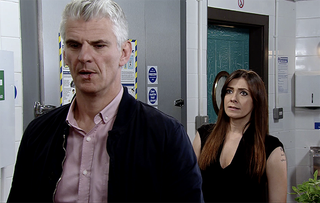 Robert Preston is forced to think on his feet when Michelle confronts him
Michelle arranges to meet Billy at lunchtime to talk wedding plans. Robert Preston promises he'll be there but when he's a no show Michelle discovers she's been lied to. Will she dig deeper and discover what Robert's been hiding?
Later at the bistro Michelle angrily confronts Robert and reveals that she knows he has been lying to her about his whereabouts. Thinking on his feet, Robert makes out he was at the travel agents planning a surprise honeymoon. Will Michelle buy it?
Jack recognises James Bailey from the County youth team and asks him to sign his football. Steve proudly reveals he knows James. Realising that Tim, Kevin and Steve are fans, Michael makes out he's not only James' brother, but his agent too. Michael invites Steve, Tim, Kevin and Jack down to James' training session, promising an access all areas tour. The lads return from their tour on a high but when James clocks Michael taking a fee from each of them, he's furious.
Roy reveals he's off to Cumbria for a few days to scatter Sylvia's ashes and visit Carla.
Daniel and Sinead attend her scan appointment. Back on the street, Beth proudly shows them her picture of Bertie, but Sinead rushes out overcome with emotion. Later, Beth's thrilled to hear her picture of Bertie is through to the final of the Gazette competition. Sinead explains to Daniel how Beth's picture of Bertie set her off, fearing for the future. Daniel assures her she's going nowhere and they ask Beth to take some family portrait shots.
Adam's intrigued as Sarah plays down her final showdown with Gary. It's clear he wants to learn more an decides to look into his past? Izzy worries about Jake's future without his dad.
Get the latest updates, reviews and unmissable series to watch and more!
Thank you for signing up to Whattowatch. You will receive a verification email shortly.
There was a problem. Please refresh the page and try again.