Emmerdale spoilers! Kim Tate DEAD after fall at Home Farm?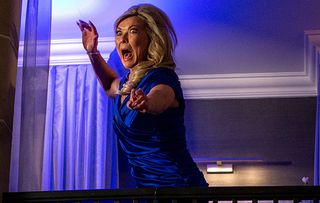 Kim Tate makes an entrance at the Home Farm masquerade ball where she's sent crashing to the floor when someone pushes her
At Home Farm, the carnage continues at the Masquerade Ball. The guests have been having a fantastic time at the lavish charity do but the fun has come to a shuddering halt. Superbitch Kim Tate (Claire King) - who hasn't been seen in the village for 19 years - has returned to Home Farm, declared the property is still hers, not her step grandson Joe's, and effectively taken charge of the evening!
After welcoming the stunned partygoers inside, Kim shares a few choice words with some of her old "pals" before swanning upstairs to check out the home she once shared with ex-husband Frank Tate.
Actress Claire King, who plays the iconic soap bitch said of the story: "Kim takes over the whole ball and turns it into her welcome home party! Those who recognise her are shocked to find out she's back."
But soon, the hum of the gossiping crowd is cut by the sound of a piercing scream…
Someone has pushed Kim, who's sent crashing into Champagne fountain below!
It's clear the fall was no accident: Kim was pushed!
But who shoved her? And will she survive?
First episode of Emmerdale this evening.
Get the latest updates, reviews and unmissable series to watch and more!
Thank you for signing up to Whattowatch. You will receive a verification email shortly.
There was a problem. Please refresh the page and try again.