Paul O'Grady's Little Heroes – ITV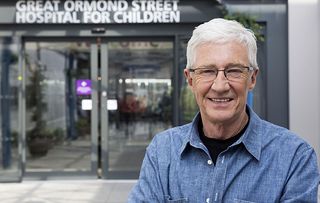 (Image credit: John Stead GOSH)
Paul O'Grady meets children receiving life-changing treatment at London's Great Ormond Street Hospital in a new six-part series on ITV
Dog lover Paul O'Grady (pictured above) has spent years filming the highs and lows of life at Battersea Dogs & Cats Home, but for his moving new series, Paul O'Grady's Little Heroes, he's turning his attention to the fantastic work of Great Ormond Street Hospital in central London, proving he's a natural with both animals and children.
Volunteering his services, he mucks in where needed – including serving up the hospital dinners – and meets some of the brave and inspirational young patients, who this week include 13-year-old Mackenzie, who is at the hospital to have ear reconstruction surgery.
Mackenzie was born with Microtia (Greek for "little ear"), a rare condition resulting in underdeveloped ears and associated hearing loss. According to Microtia UK, it affects 1 in 6,000 babies.
Mackenzie's surgeon explains how he is going to sculpt and create a new ear out of part of Mackenzie's rib.
Mackenzie tells Paul about being bullied because of his ear and Paul is on hand to give Mackenzie's mum Louise a cuddle as her son gets wheeled off to surgery.
Louise says: "I came out of theatre crying and Paul O'Grady was there and gave me the most massive cuddle."
Paul watched the amazing surgery take place and Louise says: "I couldn't stop staring at Mackenzie's new ear - all those years of imagining what it would look like had come to reality."
MacKenzie will need a further operation to improve the look of his new ear. Mum Louise revealed the happy news that the bullying has now stopped, adding "he is like a different person now".
Paul also meets siblings Emily, eight, and Luke, five, who both have cystic fibrosis. They tell Paul how they need to lead very active lifestyles to keep their condition under control. Paul says to them: "You should be proud of yourselves, you are little stars."
Talking about the children he meets on the show, Paul says: "The kids are amazing because they've got cystic fibrosis, they've got cancer, they're on dialysis, and they're just dealing with it – they never moan.
"It's sad but it's also very inspiring. They are a lesson to us all."
TV Times rating: ****
Paul O'Grady's Little Heroes – ITV
Get the latest updates, reviews and unmissable series to watch and more!
Thank you for signing up to Whattowatch. You will receive a verification email shortly.
There was a problem. Please refresh the page and try again.