Super Bowl trailers: all the new movies and TV shows shown during Super Bowl 2023
All the confirmed and expected movie and TV show trailers airing during Super Bowl 2023.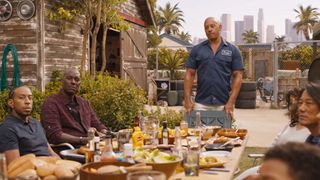 (Image credit: Universal)
The Super Bowl for 2023 brought us plenty of movie trailers, giving non-sports fans something to sink their teeth into alongside all the football fans.
Plenty of major blockbusters got new or longer Big Game Spots, as they're called, with some released ahead of the game and others only debuting mid-way through it.
We've compiled all the released trailers below for you to check out. Bear in mind that we're not including adverts for products, even if they're based around movies or TV shows (so no Breaking Bad chips here).
Oh, and if you're wondering why so many are 30 seconds, or just shy of a minute, it's because the Super Bowl charges a lot for trailers and does so by the 30 second allotment, so studios are looking to get in as much visuals as possible in that window.
65
A third trailer for Adam Driver-starring dinosaur survival movie 65 is here, hot on the heels of the second official trailer just a few weeks prior.
65 tells the story of an astronaut crash-landing on Earth 65 million years ago, along with a little girl, and having to survive all the dinosaurs which currently call the planet home.
You only have to wait until March 10 to see 65, though you can watch all 3 trailers on repeat until then if you want.
Air
First up is Air, a new movie directed and starring Ben Affleck alongside his off- and on-screen bestie Matt Damon, as well as Jason Bateman, Marlon Wayans, Viola Davis, Chris Messina and Chris Tucker.
Air tells the true story of the Nike Air Jordans — yes, the shoes — from the perspective of the sneaker salesman who united Nike and Michael Jordan to create the world-famous shoes. It's a similar premise to 2020 documentary One Man and His Shoes, which is currently available on FreeVee in many countries.
While Air was co-produced by Amazon Studios, it's actually going to be released in theaters, with an April 5 release in the US, but we'll likely see it drop on Prime Video in the near future.
Creed III
The third movie in the Rocky spin-off franchise is Creed III, which arrives on March 3, and the Big Game Spot trailer seems to be a remix of snippets we've seen before.
One cool part of the trailer is that it begins with the Roman numerals 'III', with clips from the footage playing in the digits, before they expand like a screen getting wider.
Creed III shows Creed aging past his prime, and receiving competition that he might not be able to contend with, all while balancing family issues at the time.
Dungeons & Dragons: Honor Among Thieves
An anticipated new movie from Paramount gets yet another trailer: Dungeons & Dragons, Honor Among Thieves is getting a minute-long Super Bowl trailer.
We don't see much footage here that hasn't been already shown in previous trailers — in fact, it feels like a condensed version of the main trailer that was shared in July 2022 — but the tone is a little more serious, talking about deadly evils and the like.
Dungeons and Dragons is coming out soon, with a March 31 release date, and you'll be able to catch it in theaters then.
Fast X
We've finally got a glimpse of Fast X, the 10th entry in The Fast and the Furious' sprawling legacy. While the Super Bowl 2023 trailer is only a minute long, the full cut is a full four minutes in length.
The trailer brings back recurring icons Vin Diesel, Michelle Rodriquez, Ludacris and Tyrese Gibson, and also introduces us to new-to-the-franchise stars Jason Momoa, who plays the villain, as well as Brie Larson in a mysterious role. There are one or two fast cars as well.
There are a few months out until Fast X lands on May 19, but we'll probably see more trailers as that release date draws near.
The Flash
The longest Super Bowl movie trailer was for The Flash, DC's next superhero movie which his theaters on June 16.
This movie focus on Ezra Miller's character The Flash, and features time-travelling future-altering shenanigans which see Michael Keaton return to playing Batman after many years, as well as Superman getting replaced by Supergirl (played by Sasha Calle).
The trailer shows Batman, action, time travel, Michael Shannon's returning character Zod and, of course, Batman.
Guardians of the Galaxy Vol 3
We've finally got a full-length trailer for an upcoming Marvel movie, following a teaser in late December 2022 (though there's lots of similar footage used).
This Guardians of the Galaxy Vol. 3 trailer is a full 2 and a half minutes long, much longer than the minute-long ads for most of the other movies on this list, feating a cover of 'Since You've Been Gone' and showing lots of the cast of the movie.
The second and final Guardians of the Galaxy sequel comes out in theaters on May 5.
Indiana Jones and the Dial of Destiny
The fifth outing of Indiana Jones sees 80-year-old Harrison Ford pick up his whip and hat once again.
This teaser for Indiana Jones and the Dial of Destiny is a quick one with a few jokes and action setpieces, but most of it will be familiar to people who've already seen the nearly 2-minute official trailer.
Indiana Jones and the Dial of Destiny releases on June 30.
Poker Face
Unlike many entries on this list Poker Face isn't an upcoming movie or TV show, as this Rian Johnson-created and Natasha Lyonne-starring detective show has been dropping weekly episodes for a few weeks now.
This Super Bowl 2023 trailer, which shows Lyonne's Charlie Cale providing commentary on other Super Bowl adverts, was likely intended to drum up continued interest in the show.
Since its debut Poker Face has been a hit for Peacock, the $4.99-per-month streaming service which the show is an original production for.
Scream VI
If your voice isn't already hoarse from screaming five previous times, the trailer for Scream VI is here as one of the big Super Bowl movie showings.
This minute-long trailer doesn't emphasize the movie's new setting of New York City as much as the previous one, and instead re-introduces us to the new cast of characters (many of whom return from Scream, which acted as a fifth Scream movie) and the new story.
With Scream VI releasing on March 10, not even a month after the Super Bowl 2023, this could be one of the last official trailers for it.
Transformers: Rise of the Beasts
A short 30-second ad, done in collaboration with Porsche, teased upcoming Transformers movie Transformers: Rise of Beasts.
While you could argue that this is actually a car advert, the footage is (presumably) all from the movie — it just focuses on Porsche car product placements.
Transformers: Rise of the Beasts comes out on June 9, and it's the sequel to Bumblebee, a spin-off in the Transformers line of movies.
Get the What to Watch Newsletter
The latest updates, reviews and unmissable series to watch and more!
Streaming and Ecommerce Writer
Tom is the streaming and ecommerce writer at What to Watch, covering streaming services in the US and UK. His goal is to help you navigate the busy and confusing online video market, to help you find the TV, movies and sports that you're looking for without having to spend too much money.