Brody Morgan is arrested on suspicion of burglary in Home and Away!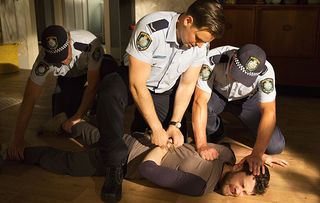 The Morgan brothers track down their missing sibling and drag him home. But with Brody refusing to even try to stay clean, Justin calls the police and has him arrested!
With drug-addict Brody Morgan having gone AWOL following a burglary at Scarlett's, where he's been crashing, the chef is prime suspect in Home and Away. Unless the Morgans can find him and get him to confess and take steps to sort out his life, Brody is going to be in a world of trouble.
Raffy's the one who ends up getting the inside info on his possible whereabouts. But when Justin and Mason turn up at a drug den in Mangrove River, their brother puts up a fight as they try to prise him out of the place… Will he do the sensible thing and liaise with the police?
Brody Morgan is arrested after his own brother shops him to the police!
Brody Morgan is arrested after his own brother shops him to the police!
A spot of detective work sees Brody's whereabouts uncovered…
But the drug addicted chef doesn't want to leave his new digs…
So Justin and Mason are forced to frogmarch their brother out of the drug den where he's been hiding out…
Thing is, Scarlett's place has been burgled – and Brody is the prime suspect.
Justin knows Brody needs help – but does the chef want to get clean?
Justin tries to convince Brody to admit to robbing Scarlett - and to tell the police he wants to go into rehab.
Can Justin get Brody to see sense?
When Justin and Mason warn Brody he can't hide out in the house forever, the desperate chef takes matters into his own hands.
AS the police knock on the door, Brody tries to make a run for it. He doesn't get far...
And he's arrested on suspicion of burgling Scarlett's place. Can Brody get clean? And will he be charged with theft? Watch Home and Away on Channel 5 from Monday, July 24
Get the latest updates, reviews and unmissable series to watch and more!
Thank you for signing up to Whattowatch. You will receive a verification email shortly.
There was a problem. Please refresh the page and try again.