Bam! Home and Away's Heath punches Zac!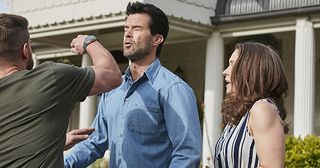 Heath finds Zac comforting Bianca and wallops her ex! Will the couple split as the row about their pregnancy continues?
The strife continues for Heath and Bianca who are at loggerheads over her pregnancy. Bianca wants to terminate it - but Heath doesn't. After another row about the situation, Heath loses it when he later finds Bianca being comforted by her ex, Zac. As Heath's temper boils over, he punches him!
There's horror for new mum Billie. Her baby girl, Luc, has been stolen from the hospital by the 'father', Mick, who raped Billie. Ash is determined to save the day - but Billie warns her brother to focus on finding Luc rather than getting revenge on Mick.
As the awful news of the baby's kidnap spreads round the Bay, VJ finally tells his mum Leah the truth - baby Luc isn't his son. How will Leah react?
A huge row kicks off as Bianca and Heath argue about their unplanned pregnancy.
Heath storms off when Bianca fails to tell him the truth about her decision to have a termination.
Exes Bianca and Zac get talking about their respective relationship problems.
But a raging Heath punches Zak when he finds him comforting Bianca!
But a raging Heath punches Zak when he finds him comforting Bianca!
With her newborn daughter having been kidnapped by Mick, the rapist who got her pregnant, Billie urges Ash to focus on finding Luc - not on getting revenge…
Luc's kidnap forces VJ to tell his mum the truth - he's not the baby's father. How will a shell-shocked Leah react? Watch Home and Away on C5 from Monday 20 March.
Thank you for signing up to Whattowatch. You will receive a verification email shortly.
There was a problem. Please refresh the page and try again.