New love for Emmerdale's Matty Barton with old friend Victoria? Ash Palmsciano reveals all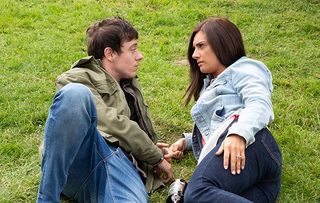 Could his old friendship with Victoria Barton become a new romance for Matty? Emmerdale transgender actor Ash Palmsciano reveals all…
Matty Barton has made quite an entrance in Emmerdale and one person in particular is pleased to have him around. Victoria Barton, who was Hannah Barton's best pal before she changed gender and became Matty, finds herself romantically attracted to the newcomer.
What's the story?
"At the moment, Matty Barton is happy to have his best friend back," Ash Palmsciano, Emmerdale's first transgender actor, tells Soaplife. "If they were to get involved romantically, there would be a lot of obstacles to face." But could love be in the air?
What's happening in Emmerdale? See the latest soap storylines
Actor Ash Palmsciano talks with Soaplife about the relationship between Matty and Victoria in Emmerdale…
Soaplife: So is it just friendship Matty feels for Victoria?
Ash Palmsciano: "At the moment, he's happy to have her there because his family isn't as understanding as she is."
S: Could there be any romance between them in the future?
AP: "Well, there's a spark between them and it all depends on what the storyliners decide."
S: Has Matty had a relationship as a man?
AP: "He did have a small dalliance with a lady, but he's finding that side of stuff really hard. He needs to figure out who he is before he meets someone. He wants to feel that attraction. But, so far, he hasn't had any luck. The question is, when do you tell someone that you are trans? With Victoria, it's a bit easier as she knows already."
S: How do you feel about being cast as Emmerdale's first trans character?
AP: "It will obviously split opinion because it's something new. But, so far, the feedback has been amazing. I've had lots of messages from people saying it's opened up conversations in their house. I hope it normalises what it is to be trans.
S: How did you get the part?
AP: "I went up to Emmerdale with a charity called All About Trans, who work on positive representations of trans people in the media. I said they needed someone in the show that people love who happens to be trans. They ended up auditioning me!"
Emmerdale continues on ITV.
Thank you for signing up to Whattowatch. You will receive a verification email shortly.
There was a problem. Please refresh the page and try again.