David is Leyla's hero! (Tracy's going to flip)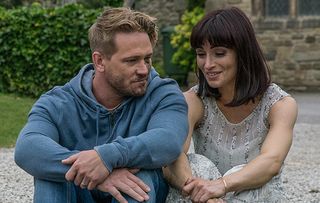 David is Leyla's hero when he lends her the money she needs to cover the wedding dress payment but it's a fair bet Tracy isn't going to be very happy!
David becomes Leyla's hero. Leyla is at rock bottom following her failed wedding to Pete. And to make matters worse she owes the dress designer money for the gown which has been ripped and is unreturnable. Fed up, Leyla decides she might as well wear the frock while she drowns her sorrows in the village.
Meanwhile, in David's shop, Tracy is celebrating her birthday and waiting for her husband to make it to the mini party. But David gets waylaid when he finds Leyla drunk and sat in an oily puddle in her wedding dress! Sad to see her so upset, David takes a weight off Leyla's troubled mind by lending her the money she needs to cover the dress payment.
Thing is, the cash is earmarked for a long-awaited holiday for he and Tracy. Seeing as his wife hasn't been consulted, and is already a bit iffy about his friendship with Leyla, how's Tracy going to react to hear they're not going to be going anywhere?
When David comforts Leyla - there's going to hell to pay!
When David comforts Leyla - there's going to hell to pay!
Leyla goes out drinking in her wedding dress and ends up slipping in a dirty puddle…
David finds Leyla…
… and listens to her tales of woe.
He consoles Leyla and offers to lend her the money she needs to pay for her ruined gown from her ruined wedding day. But the cash is meant to be paying for he and his wife to go on holiday… What will Tracy say? Watch Emmerdale on ITV from Monday 11 September.
Get the latest updates, reviews and unmissable series to watch and more!
Thank you for signing up to Whattowatch. You will receive a verification email shortly.
There was a problem. Please refresh the page and try again.