The Bucket List - Channel 5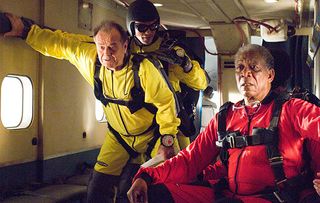 (Image credit: © 2007 Warner Bros.)
Jack Nicholson and Morgan Freeman play terminally ill cancer patients, who head off on a life-affirming road trip with a wish list of things to do before they die
Jack Nicholson and Morgan Freeman play terminally ill cancer patients, who head off on a life-affirming road trip with a wish list of things to do before they die.
Their madcap adventures range from the unlikely, such as scaling Mount Everest and skydiving, to slightly more plausible and more embarrassing misadventures including consorting with loose women.
Forming a delightful odd-couple partnership, Nicholson and Freeman are the making of this stylish and often very funny comedy drama.
Nicholson's multi-millionaire grins and growls to excellent, crowd-pleasing effect and Freeman's upright motor mechanic is a great foil for him.
The bittersweet script tries hard to be feelgood, though obviously the essentially sad nature of the story can't help coming through powerfully. With a bit of a surprise ending that you can probably see coming, you could say the film's corny and contrived but, most of all, it's just plain entertaining.
Get the latest updates, reviews and unmissable series to watch and more!
Thank you for signing up to Whattowatch. You will receive a verification email shortly.
There was a problem. Please refresh the page and try again.