Chas has a surprise guest for Diane: Aaron!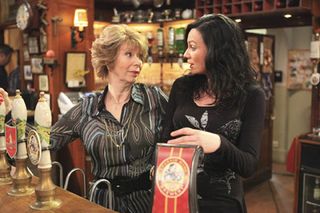 Rhona has got her way and Aaron is moving out. She's relieved but not happy and Paddy feels awful. He feels he's turning his back on the lad he thinks of as a son. So where's Aaron going? To The Woolpack! Except he's not welcome there, either. Diane has not agreed to the move, but Chas doesn't give her any choice; she's moving in and she's bringing Aaron with her. One Dingle in Diane's life was (just about) do-able, but two? That's pushing it - especially when it's a mother and son who don't get on at the best of times. Leyla and Alicia are sisters who have been thrashing around in a love/hate relationship for months and stuck in the middle are David and Jacob, the son Leyla gave up to Alicia. David has told Leyla she has to choose between him and Jacob - and Leyla does... Ashley would like his father, Sandy, to choose to stay sober occasionally, but Sandy's an old soak who can't say no to a drink. He's had a few and made a show of himself in The Woolpack - again - when Ashley runs out of patience...
Get the latest updates, reviews and unmissable series to watch and more!
Thank you for signing up to Whattowatch. You will receive a verification email shortly.
There was a problem. Please refresh the page and try again.