Holby City Spoilers: Serena's got family strife!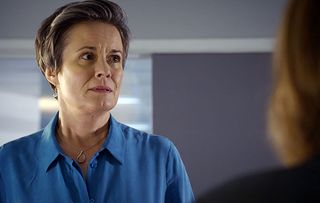 (Image credit: BBC)
Is the consultant interfering in Jason and Greta's lives to hide her own heartache?
Serena Campbell's got family trouble this week when her nephew Jason brings his heavily pregnant girlfriend Greta to the hospital with complications.
Since finding out Jason, who has Asperger's, was going to be a dad, she has vowed to help him and Greta bring up their baby. But when she gets too involved with Greta's treatment, the expectant mum is clearly overwhelmed by her overbearing nature.
So Greta's really unimpressed when Serena then reveals she's decided the new parents will move in with her once the baby is born. Greta abruptly tells her that won't be happening – mum, dad and baby will all be living in her flat!
Seeing how uncomfortable Greta is with Serena's interfering, however, senior staff nurse Donna Jackson gives Serena some friendly advice. She recalls how, when her daughter Amber was born, she almost fell out with her mother-in-law for trying to 'take over' and warns Serena not make the same mistake.
That's when Serena confides in Donna that she's trying to make up for her own failings as a mum to daughter Elinor, who died last year from a brain injury.
Later, over drinks with colleague Sacha Levy, she admits she's been focusing on Jason and Greta because she misses her partner Bernie (Jemma Redgrave), currently working in Nairobi. Will they be able to reunite?
Meanwhile, Nicky and Meena are at odds when they step on each others' toes at work. Can their friendship survive the competitive world of junior doctors? Or has it gone too far this time?
Also, Roman lays his cards on the table with Frieda. But with so much water under the bridge, can Frieda see a way forward for them?
Get the latest updates, reviews and unmissable series to watch and more!
Thank you for signing up to Whattowatch. You will receive a verification email shortly.
There was a problem. Please refresh the page and try again.