Let's get hitched… Evie and Matt's quickie wedding!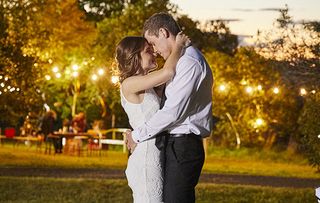 Evie and Matt get married during a last-minute ceremony before leaving the Bay.
The locals pull together to arrange a last-minute wedding for Matt and Evie. The ceremony hits a glitch when it looks like Zac won't make it, but Matt is relieved when Evie decides to go ahead as planned.
As the arrangements come together, Evie and Matt exchange vows and are pronounced husband and wife by Alf! The loved-up locals look on as the happy couple dance at the reception, before preparing to leave the Bay…
Evie and Matt get hitched!
Evie and Matt get hitched!
The happy couple have decided to tie the knot before they leave for Thailand.
The locals pull together to get the wedding prepped.
Evie's make up and dress are organised by Phoebe and Marilyn.
Alf pronounces Evie and Matt are husband and wife!
The newlyweds kiss!
Evie is all smiles at the wedding reception, especially when her Uncle Zac manages to make it.
Evie and Matt dance the night away, knowing it will be one of their last in the Bay before they leave for Thailand.
Having recently got engaged, Justin and Phoebe are on a high, too.
Leah supplies the wedding cake - but her face falls when she clocks Zac has arrived back in town.
So far, VJ has no idea Zac has cheated on his mum Leah. But will their secret stay buried?
John makes Marilyn a happy woman when he changes his mind about them moving to the city to escape his troubles. Will the wedding reception remain drama-free? Watch Home and Away on C5 from Monday 8 May.
Get the latest updates, reviews and unmissable series to watch and more!
Thank you for signing up to Whattowatch. You will receive a verification email shortly.
There was a problem. Please refresh the page and try again.