VJ finds out Zac cheated on Leah!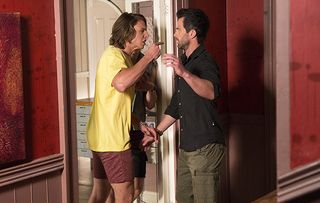 VJ explodes at Zac after finding out he cheated on Leah.
With her marriage to Zac in tatters, Leah has vanished to her parents' house to get some space. Despite his messages, Zac hasn't heard a word from his wife. But when VJ asks Zac if everything is OK between him and Leah, Zac lies to him. But his lies come undone when VJ later spies an email Leah has sent to Zac, discussing his infidelity. With that, furious VJ turns on Zac…
Things are happier in loveland for Roo, who's clearly hiding a secret which is putting a huge smile on her face. As Irene and Marilyn try to work out what's going on, Roo receives a visitor in the shape of James - a younger man she met while she was on holiday in Hawaii! As Roo strives to keep the romance under wraps, Morag springs them and soon sniffs out the truth…
VJ lets rip at Zac when he finds out he's cheated on Leah.
VJ lets rip at Zac when he finds out he's cheated on Leah.
VJ doesn't understand why Leah has vanished. Zac lies, saying everything between them is fine.
But Zac's lie comes unstuck when he sees an email Leah has sent Zac, in which she brings up his betrayal.
Fuming with his stepdad, VJ confronts Zac wanting to know if he really has cheated on his mum.
Elsewhere, Roo is thrilled when a visitor arrives - it's her secret toyboy lover James who she met on holiday in Hawaii!
Roo wants to keep her romance with James under wraps but is taken aback when her aunt Morag arrives...
As Roo tries to cover up her relationship with younger man James, Morag isn't fooled. Will she agree to keep her niece's secret? Watch Home and Away on C5 from Monday 15 May.
Get the latest updates, reviews and unmissable series to watch and more!
Thank you for signing up to Whattowatch. You will receive a verification email shortly.
There was a problem. Please refresh the page and try again.