How many more bad dates before Chas and Paddy give up?!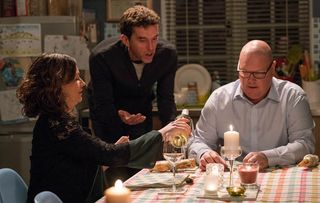 Chas and Paddy are persistent, you've got to give them that. Most people give up after one bad date. Yet they still keep trying in Emmerdale...
As Marlon plays Cupid in Emmerdale, setting up a romantic dinner to try to get Chas and Paddy in the mood for romance, the chef's best laid plans go to pot…
Paddy is in excruciating pain following an intimate incident earlier and he tries to cope by glugging wine. Are they destined to never get it together?
At Tall Trees, Marlon has set up Chas and Paddy... Is it finally going to happen?!
Paddy tries to hide his discomfort as he and Chas sit down for dinner. He drinks his wine, desperate to numb the pain of his recent injury
As the wine flows neither Marlon nor Chas know why Paddy is knocking it back with such vigour
… will he be able to tell her he's in excruciating pain? And the embarrassing reason why?
As Marlon leaves the awkward pair to it, Paddy's clearly feeling very uncomfortable… And Chas is shocked when she unwittingly causes him to faint!
The disastrous date is called off early and Paddy's soon disturbed to learn where Chas has gone...
His heart sinks as he listens to Chas innocently flirting with her ex flame DS Wise. Will they call time on their comedy of errors? Watch Emmerdale on ITV from 7pm, Monday, January 16
Thank you for signing up to Whattowatch. You will receive a verification email shortly.
There was a problem. Please refresh the page and try again.