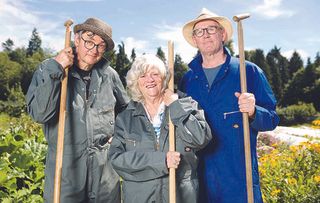 Down on the farm, the celebrities are feeling fantastic
Eight days in, our seven celebrities have reached the half-way mark and, having overcome the worst of the sugar cravings, they are sounding pretty upbeat about their healthy new lifestyle.
Gemma Collins is 'feeling amazing', Alison Hammond is 're-energised' and Lagi Demetriou is pleased to see his man boobs shrinking.
However the feel-good factor quickly disappears for poor Joe Pasquale when it's time to decide which of the livestock to send for slaughter, and an MRI scan gives Lagi's dad Demi a wake-up call about his big belly which, he tells his son, is 'your mother's fault'.
Meanwhile, in the walled garden, head gardener Andre clearly has the measure of one of his workers: 'Gemma, she is a nightmare…'
Thank you for signing up to Whattowatch. You will receive a verification email shortly.
There was a problem. Please refresh the page and try again.