Extraordinary: release date, cast, trailer and all we know about the new comedy
Máiréad Tyers and Siobhán McSweeney star in Extraordinary, a new series about a woman's quest to unleash her superpower.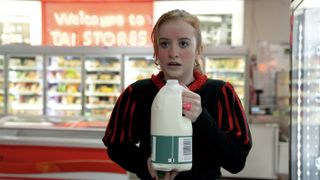 (Image credit: Disney Plus)
Extraordinary is set to bring some wry laughs to Disney Plus and Hulu when it launches on the streaming platforms.
The 'anti-superhero' comedy, from the makers of Killing Eve, is set in a world where almost everyone over the age of 18 has special powers, but one insecure young woman, Jen, played by Belfast's Máiréad Tyers, is still trying to find her gift.
Here's everything you need to know about Extraordinary on Disney Plus and Hulu…
Extraordinary — when is the release date?
All episodes of the eight-part comedy will launch on Disney Plus in the UK and Hulu in the US on Wednesday, January 25.
Extraordinary — what is it about?
The comedy, penned by Emma Moran, is set in London, where, a decade ago, every adult was granted a superpower. Irish-born Jen, however, is yet to receive her talent, so she embarks on a desperate mission to find it. But as she also tries to negotiate the trials of dating and working in a rubbish job at a party shop, will she come to realise that she's fine just being 'ordinary'?
"It's about a 25-year-old woman who is trying to find herself in a world of superpowers where, unfortunately, she's a late bloomer. It's encouraging people to embrace being average!" Máiréad Tyers, who plays the lead role, Jen, tells What To Watch.
"I hope you'll fall in love with Jen because she's relatable. She puts her energy into trying to find her superpower, she feels inferior. But there are other elements of her life that she's not dealing with…"
Extraordinary — who else is in the cast?
Derry Girls and The Great Pottery Throw Down's Siobhán McSweeney also stars in the comedy as Jen's mum Mary, who has the power to control technology, even if she doesn't quite know how it works!
Robbie Gee (Small Axe) is Mary's husband Ian, who can feel other people's emotions, and Sherwood's Safia Oakley-Green is Jen's younger cocky half-sister Andy, who is about to turn 18 and is certain her power will kick in immediately.
"Mary loves Jen and tries to help her, but she feels Jen's a lost hope, while Andy is brilliant. But Mary's own affinity with technology is an irritation to her!" Siobhán McSweeney tells What To Watch.
"What's clever about a world in which people get superpowers though, is that everybody's still messed up, it doesn't fix anything. They were the funniest scripts I've read since Derry Girls. But through the humor, it shows the complexities of being a young woman who is trying to find out who she is. It explores how it feels in your twenties when everybody has their life sorted but you're still lost."
Meanwhile, Poldark's Sofia Oxenham plays Jen's kind-hearted flatmate Carrie, who can channel the dead and Bilal Hasna (Screw) plays Carrie's boyfriend Kash, who can reverse time.
Emmerdale and Bridgerton's Ned Porteous plays Jen's crush Luke, who can fly, and Luke Rollason (Industry, Becoming Elizabeth) plays an enigmatic new flatmate who Jen tries to help through his troubles and who makes her think about what she really needs from her own life…
Is there a trailer for Extraordinary?
Yes, the teaser shows Jen attending a job interview and blurting out a list of her numerous faults before the interviewer questions why Jen's power hasn't been mentioned on her CV and then looks surprised when Jen confesses that she doesn't have one yet. While Carrie tries to reassure Jen about her lack of a superpower, Jen is jealous when Andy receives a superpower on her 18th birthday.
But Jen gets a chance to see what it is like to fly when Luke lifts her up as he takes to the air, while she also makes enquiries at a clinic about embarking on her 'power journey' but things don't go quite as planned…
Get the latest updates, reviews and unmissable series to watch and more!
Caren has been a journalist specializing in TV for almost two decades and is a Senior Features Writer for TV Times, TV & Satellite Week and What's On TV magazines and she also writes for What to Watch.
Over the years, she has spent many a day in a muddy field or an on-set catering bus chatting to numerous stars on location including the likes of Olivia Colman, David Tennant, Suranne Jones, Jamie Dornan, Dame Judi Dench and Sir Derek Jacobi as well as Hollywood actors such as Glenn Close and Kiefer Sutherland.
Caren will happily sit down and watch any kind of telly (well, maybe not sci-fi!), but she particularly loves period dramas like Call the Midwife, Downton Abbey and The Crown and she's also a big fan of juicy crime thrillers from Line of Duty to Poirot.
In her spare time, Caren enjoys going to the cinema and theatre or curling up with a good book.
Thank you for signing up to Whattowatch. You will receive a verification email shortly.
There was a problem. Please refresh the page and try again.