Great Expectations with Olivia Colman: next episode, release date, cast, who's who, plot, trailer, interviews and all about the new Dickens adaptation
Great Expectations on BBC1 and FX on Hulu sees Olivia Colman as Miss Havisham and Fionn Whitehead playing Pip in a new adaptation by the Peaky Blinders writer.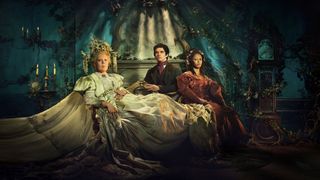 (Image credit: FX/BBC)
Great Expectations has been adapted for TV and cinema many times, so we're all pretty familiar with the story of Pip, Magwitch, Jaggers, Estella and Miss Havisham.
Now Steven Knight, the writer and creator of Peaky Blinders, has given the classic Charles Dickens' novel his own twist for a new drama coming to BBC1 in the UK and FX on Hulu in the US, and he's got Olivia Colman on board as the world's most famous jilted bride Miss Havisham.
Alongside Olivia there's also Dunkirk's Fionn Whitehead who's playing the iconic lead role of Pip as an adult, trying to become a 'gentleman'. Top Boy actor Ashley Thomas will play conniving lawyer Jaggers while Johnny Harris, star of The Salisbury Poisonings, will play escaped convict Magwitch.
This is the second Dickens' novel to be made into a series by BAFTA-winning writer Steven Knight as he brought us BBC1's 2019 series A Christmas Carol, starring Guy Pearce, Andy Serkis and Stephen Graham, but it won't be the last as there are more in the pipeline —- we're expecting a version of Charles Dickens novel A Tale Of Two Cities next from the same team.
This 2023 version of Great Expectations is executive produced by Tom Hardy, Ridley Scott, Dean Baker, David W. Zucker and Kate Crowe – the team behind 2019's A Christmas Carol
So here's everything you need to know about this new BBC1 and FX on Hulu adaptation of Great Expectations...
Great Expectations release date
Great Expectations starts on BBC1 and BBCiPlayer on Sunday March 26 at 9pm and in the US it will be streaming on FX on Hulu from Sunday March 26 too. It won't be available as a box set so you can only catch episodes weekly, every Sunday at the same time in the UK.
Is there a Great Expectations trailer?
Yes, two in fact! It's wonderful to see Olivia Colman in action as iconic character Miss Havisham and meeting young Pip (Tom Sweet) when he arrives at Satis House for the first time, ready to begin his education to become a gentleman! Take a look below at the teaser trailer and a second longer trailer....
Great Expectations plot
Charles Dickens' famous novel Great Expectations tells the tale of orphan Pip but there are some differences in this 2023 version, and some characters from the novel are missing.
Pip lives with his mean sister Sara Gargery and her kindly blacksmith husband Joe. One day, on the marshes of Gravesend, Kent, Pip meets escaped convict Magwitch, who scares Pip into stealing food and a metal file for him. The following day the convict is captured but takes the blame for the theft, sparing Pip from punishment. A year later Pip is asked to become playmate of young Estella, the daughter wealthy Miss Havisham at the dilapidated Satis House. Miss Havisham was jilted at the alter 20 years earlier and is raising Estella to break men's hearts as her revenge.
Pip falls in love with Estella before discovering he has a secret wealthy benefactor and to help him become a gentleman in London. Estella however becomes promised to another man but the novel then explores the themes of regret, forgiveness, and redemption, as Magwitch comes back into the story while Pip is a grown man in London.
Great Expectations cast — Olivia Colman on playing Miss Havisham
Taking on the iconic Great Expectations role of melancholic recluse Miss Havisham should come easily to Olivia Colman as she's used to playing flawed characters. Her version of Miss Havisham is decidedly cranky, a little bit mouldy and is seen strung out on opium, smoked through a large pipe!
Olivia says: "The first time I read Steven Knight's script, the story was darker than I remembered from school. There were a few changes and I found it gripping. Miss Havisham is only in her 40s, but we've gone for long white hair and broken veins because we think she went white with the heartbreak. The first time I tried on the costume, the designer, Verity Hawkes, said, 'I want it rotten. Miss Havisham is rotten on the inside.' So the decay is growing up the dress – it's amazing!
"Everybody plays her in a different way, that's part of the fun. I think she's vain and her ego is massively bruised. She was madly in love with someone and she went to get married and he never turned up. Her life stopped from that moment. And in this version, she's an opium addict. She's adopted Estella and trained her to hurt men as much as she was hurt. And she's using Pip as a guinea pig by teaching him how to be a gentleman, but she wants him to fall in love with Estella so that she can break his heart. Fionn and Shalom are irritatingly young and beautiful, and really good, I forget I'm not the same age as them!"
* Olivia Colman won an Oscar for her portrayal of Queen Anne in the 2018 film The Favourite and last year played troubled mother Leda in The Lost Daughter on Netflix. She's also appeared in hit series such as Beautiful People, The Green Wing, Fleabag, and Twenty Twelve and played detective Ellie Miller in Broadchurch. Back in 2019 she was Madame Thénardier in the BBC1 adaptation of Les Misérables as she took on the role of Queen Elizabeth II in seasons 3 and 4 of The Crown on Netflix. Recently she starred in Sky drama Landscapers and is due to star in next year's movie Wonka, about Roald Dahl's famous character.
Fionn Whitehead on playing the adult Pip in Great Expectations?
Fionn Whitehead plays Pip as and adult, from 18 onwards. Fionn told us: "It is a tragic tale and in this version, Pip is troubled. He has lost his parents so he's wrapped up in grief but he also has a lust for life. He's a young man with aspirations who sees the struggles around him and believes the way to escape them is to climb the social rankings, move to London and become a gentleman. But that comes with stuff that he's not ready for, and he gets dragged under by it…"
* Fionn Whitehead has had lead roles in both the movie Dunkirk and Black Mirror: Bandersnatch. He's also been in the TV series Him, Voyagers and The Children Act.
Shalom Brune-Franklin plays Estella Havisham
Miss Havisham's adopted daughter Estella is played as an adult by Shalom Brune-Franklin, who told us: "Estella has been raised in a toxic environment with Miss Havisham; she's had a traumatic upbringing. Now, she's trying to navigate love and relationships when she hasn't been given the tools, and she has to see if she's able to break the cycle and break free."
* Shalom Brune-Franklin has previously had roles in Line of Duty, Roadkill and the recent BBC1 hit The Tourist.
Johnny Harris on playing escaped convict Magwitch
Johnny Harris plays escaped convict Magwitch, who becomes a secret in Pip's life, after they meet in the marshes of Gravesend, Kent.
Johnny Harris says: "It's hard to describe him really because he goes on a journey. It depends which Magwitch you're talking about, you know, he's quite different at the beginning to the end. Magwitch is a troubled man. On the surface, he's a convict, a rogue, a highwayman, a legend of the road, and he's lived the life of sin. We meet him when the repercussions of that are in full swing. Then there's an awakening, and from there on he's someone who is trying to do the right thing in life.
Johnny Harris is no stranger to Charles Dickens as he played Franklin Scrooge in BBC1's 2019 adaptation of A Christmas Carol. He's also appeared in dramas such as The Salisbury Poisonings, This is England, Whitechapel, The Fall Of Troy and Fortitude.
Ashley Thomas on playing lawyer Mr Jaggers
Top Boy, The Ipcress FIle and Them star Ashley Thomas plays lawyer Mr Jaggers, who is linked to Miss Havisham yet works in London. His character arrives on the scene in episode 2 when he meets Pip as an adult and brings him to London.
Ashley Thomas says: "In school, we did Oliver Twist. I played the Artful Dodger and there are pictures of me with the top hat and tailcoat when I'm about 15! But it's cool as an adult to be in the world of Dickens. I'd always wanted to get involved in this era and this was the chance to do it.
"I hadn't read Great Expectations, but I dived into it when I took on the role. The scripts were amazing, that's what drew me in, and then I went back and listened to the audiobook.
"In Charles Dickens' book, Jaggers is 'a burly man of an exceedingly dark complexion', so it's interesting. London at that time was a melting pot of different cultures. You had people from Asia, Africa and the Caribbean. I don't think it's about being 'woke'; it's just about being accurate to the time. Representation is key and we should embrace it where possible and where it makes sense."
Who else is starring in Great Expectations?
There's a long cast list of other wonderful actors in Great Expectations, Hayley Squires (I, Daniel Blake) and Killing Eve actor Owen McDonnell star as Pip's only relatives Sara and Joe Gargery, while Matt Berry (Toast of Tinseltown) plays family friend Mr Pumblechook who sets up the initial meeting between Pip and Miss Havisham.
Tom Sweet plays the younger Pip at the start of the series and Chloe Lea is playing young Estella. Bronte Carmichael plays the younger version of Pip's friend Biddy while Laurie Ogden is the older Biddy. Trystan Gravelle is Compeyson and Rudi Dharmalingam stars as Wemmick.
Great Expectations episode guide (spoilers)
Here's our episode guide for the 2023 version of Great Expectations. It does deviate from the book in places so beware potential spoilers...
Episode 1: Sunday March 26 2023
Orphan Pip is looked after by his sister Sara Gargery and her husband Joe, a blacksmith for whom he works in the forge. Nearby on the marshes around Gravesend, Kent, two convicts escape from a prison ship. While Pip is visiting the grave of his parents and dead siblings one of these convicts Magwitch grabs hold of him and demands he fetches food and drink. Terrified Pip does so, stealing a pie freshly made by his sister Sara for Christmas. Magwitch seems grateful when Pip returns to give the convict the stolen meal.
Meanwhile, back at the blacksmith's house, the Gargerys are visited by family friend Mr Pumblechook whom they call 'Uncle'. He informs them a mysterious wealthy local lady called Miss Havisham wishes to find a friend for her adopted daughter Estella to play with at their home, Satis House, and she will pay handsomely for such service. Keen to earn this extra cash, Sara and Joe agree Pip should do the honours. Sarah wishes to celebrate by fetching her prize pie! Pip is worried his theft of it will be discovered but just in time soldiers arrive at the door asking local men for help in apprehending the escaped convicts.
Both Pip and Joe head out on to the marshes with the posse and when the convict Magwitch is found, Pip fears his theft will be discovered. Yet Magwitch keeps this to himself, saying he stole the pie after breaking into a local blacksmith's house. Magwitch is taken away to serve out his prison sentence.
The meeting with Miss Havisham and Estella happens soon after, and Pip sees what a creepy existence they have, especially Miss Havisham who has been locked away in her house, never to go and still wearing the bridal dress she'd been jilted in decades earlier. He wonders what this arrangement will bring....
Episode 2: Sunday April 2 2023
Pip changes from boy to young man (changing actors from Tom Sweet to Fionn Whitehead) as he reaches his 18th birthday. Miss Havisham and adopted daughter Estella continue with his education in becoming a gentleman, even organising a sexual encounter for him! There are French lessons too, courtesy of Pip's friend Biddy, as Miss Havisham becomes ever more manipulative and strung out on opium. Look out for her enormous pip! Meanwhile Miss Havisham's lawyer Mr Jaggers has secret plans for Pip too…
Episode 3: Sunday April 9
In a Gravesend tavern, Pip meets conniving lawyer Jaggers and learns he has a secret benefactor from whom he receives a hefty sum of money. Jaggers becomes his guardian and asks Pip to work for him in London. So this third episode follows Pip as he tries to make an impression in the 'wicked city' and soon shows off his incredible knowledge of shipping to the business world. Meanwhile, Magwitch is seemingly out of prison on a mission of revenge and Estella clashes with Miss Havisham over a possible marriage arrangements. Pip then gets excited to hear Estella is coming to London…
Episodes 4 to 6
We shall update as the series progresses.
Locations, filming news and behind the scenes on Great Expectations
Although the story is set in Kent, some of the Great Expectations filming happened in Shropshire, UK, in May 2022. Victorian props have been added to a street in Shrewsbury, with a horse and carriage, old wheelbarrows and vintage signs seen along it.
A Facebook post by a group called Original Shrewsbury says: "Despite last night's downpour the filming of BBC One's new adaption of Great Expectations was full steam ahead. It's amazing to see the transformations taking place across Shrewsbury's town centre. Modern signage, lighting and street furniture have all been hidden or transformed to recreate Georgian streets - and with the fantastic actors and extras all dressed up, it's like we've stepped back in time. A fantastic job by Film Shropshire for paving the way for this production."
Some scenes have been filmed at the top of St Mary's Water Lane, Shrewsbury, where incidentally some of the 1984 film of A Christmas Carol, with George C Scott as Scrooge, was filmed.
Steven Knight has written and executive produced Great Expectations alongside Tom Hardy (A Christmas Carol, Inception), Ridley Scott (The Martian, Blade Runner), Dean Baker (Taboo, Trophy), David W. Zucker (The Good Fight, The Man in the High Castle), Kate Crowe (Misfits, You Don't Know Me) and Tommy Bulfin (Peaky Blinders, The Tourist) for the BBC – the team behind FX's A Christmas Carol – with Brady Hood (Top Boy, The One) and Samira Radsi (Holiday Secrets, Knightfall) as directors.
Great Expectations — previous adaptations on screen
Back in 1946, the novel Great Expectations was brought to the big screen, featuring John Mills and Alec Guinness, and then in 1998 we saw a modernized version starring Ethan Hawke and Gwyneth Paltrow. In 2011 it was made into a series by the BBC, with Ray Winstone as Magwitch and Gillian Anderson as Miss Havisham, then this was followed by the 2012 version, starring Toby Irvine and Ralph Fiennes, with Helena Bonham Carter playing Miss Havisham that time.
Get the What to Watch Newsletter
The latest updates, reviews and unmissable series to watch and more!
TV Content Director on TV Times, What's On TV and TV & Satellite Week
I'm a huge fan of television so I really have found the perfect job, as I've been writing about TV shows, films and interviewing major television, film and sports stars for over 25 years. I'm currently TV Content Director on What's On TV, TV Times, TV and Satellite Week magazines plus Whattowatch.com. I previously worked on Woman and Woman's Own in the 1990s. Outside of work I swim every morning, support Charlton Athletic football club and get nostalgic about TV shows Cagney & Lacey, I Claudius, Dallas and Tenko. I'm totally on top of everything good coming up too.