There's money missing from E20 and Mel Owen's out to replace it in EastEnders!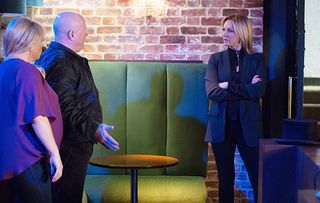 With the responsibility of the club's missing money placed on Mel's shoulders, she desperately tries to think of ways to raise the cash.
Phil Mitchell gives Mel Owen until the end of the week to pay back some of the missing £15,000 stolen from E20, leaving her to think of a way to find the money. But when she fails in her first attempt, she reluctantly turns to Jack for help...
Phil Mitchell is on the war path.
Phil Mitchell is on the war path.
Mel hatches a plan to retrieve a necklace that Ben gave to Kathy, and heads over to the chippy where she tells Ian she's looking at a new food supplier for the club.
Ian offers to recreate a dish he cooked for her all those years ago to see if it would be suitable for the menu. Convinced it's a date, Ian puts all his efforts into creating the perfect dish. But Mel is using it as an excuse to find the necklace...
Failing in her plan, Mel admits to Jack that there was a robbery at the club and that she needs to replace the money ASAP.
Jack then accuses Keegan of stealing the money...
Bernadette convinces Keegan to find out who did take the money to clear his name, and calls for a meeting with Louise, Hunter and Bex. Accusations fly, leading Keegan into telling Jack that Hunter was responsible...
Jack then goes to see Hunter to find out whether he stole the money...
But when he tells Mel he's had a chat with Hunter, she quickly to jump to her son's defence. Watch all the action unfold from Monday 24th June.
Get the What to Watch Newsletter
The latest updates, reviews and unmissable series to watch and more!