Corrie's Ryan Thomas wants to work with brother Adam, who's in Emmerdale!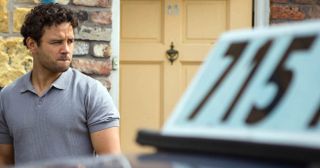 (Image credit: Joseph Scanlon)
Coronation Street's Ryan Thomas has revealed that he would welcome the opportunity to work with his brother, Adam, who plays Adam Barton in Emmerdale…
Ryan Thomas, who has left his Coronation Street role as Jason Grimshaw, was asked if there was any chance he would join his brother, Adam, in Emmerdale.
And he had this answer:
"How can I go into Emmerdale when I'm in the best soap now? I can't leave the best soap to go to another soap that isn't as good as my one!" he told OK!
"I've got to be territorial to my show and my show is the best. Everyone else will say their show is the best but this is my show."
Despite ruling out the idea of working with Adam on a soap at the moment, Ryan did admit that he would consider it in the future.
"The one thing I would love to do is work with my brother as that would be fantastic and maybe that opportunity will come at some point.
"I said to Adam, 'Don't leave Emmerdale yet or I'll never get a job!' because he's too good. He's better than me.
"I love what he's doing there but I wouldn't leave Corrie to go over to Emmerdale."
Talking about his future, Ryan, who played Jason for 16 years, confessed that he may enrol in drama courses.
"I'm looking to do some courses in drama, which will be great for me. I'm even looking at disappearing under the radar for a little bit.
"The theatre doesn't really appeal to me, but I know I have to do it to add another string to my bow. All of these things will be taking me out of my comfort zone, testing me."
You can see Ryan's final scenes in Coronation Street on ITV, Wednesday, June 29, 7.30pm
Thank you for signing up to Whattowatch. You will receive a verification email shortly.
There was a problem. Please refresh the page and try again.