Kerry's life is out of control after accidental confession to Dan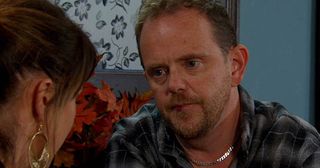 At Kerry Wyatt's Halloween party, Dan accidentally finds out it was Ross who got her pregnant!
Kerry Wyatt's Halloween costume party is meant to be the night she and Dan get back together in Emmerdale. But her best laid plans turn sour during a case of mistaken identity…
When Ross and Dan end up swapping fancy dress costumes, Kerry has no idea. So, when she thinks she's having a private chat with Ross about their one-night stand, which got her pregnant, it's actually Dan she's talking to!
As a fight breaks out between Ross and Dan, broken-hearted Kerry hits the bottle, believing she's lost her man for good. Turning to Sam Dingle for support, drunk Kerry ends up kissing him, just to make matters even worse!
Kerry's Halloween party is a disaster when her one-night stand with Ross, which got her pregnant, is exposed…
Earlier, with everyone in fancy dress costumes, Kerry mistakenly thought she was talking to Ross about their night of passion, not Dan, who's appalled by the bombshell…
Thinking she's lost Dan for good, Kerry hits the bottle and gets talking to Sam.
In the heat of the moment, upset and drunk Kerry lunges at sympathetic Sam and snogs him!
At the garage the next day, Chrissie tries to intervene as a fight kicks off when Ross brands Dan 'pathetic'. Dan wallops his workmate – but comes off worst as Ross knocks him out cold…
Thinking she'll never get him back in her life, Kerry's thrilled when she has a drink with Dan.
It looks as if Dan is starting to thaw. Kerry starts to wonder if she can save their relationship after all…
… but Kerry's romantic hopes come crashing down when Megan arrives on the scene and tells Dan that Kerry kissed Sam Dingle!
Furious that Kerry has betrayed him again, Dan's had enough of trying to salvage their relationship.
Furious that Kerry has betrayed him again, Dan's had enough of trying to salvage their relationship.
Furious, Dan washes his hands of Kerry and storms out of the cafe, leaving his ex broken-hearted. Watch the drama on Emmerdale on ITV from Monday, October 31
Get the latest updates, reviews and unmissable series to watch and more!
Thank you for signing up to Whattowatch. You will receive a verification email shortly.
There was a problem. Please refresh the page and try again.