Luke is charged with assault after his run in with the Parker Brothers!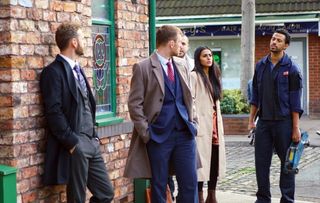 (Image credit: Mark Bruce)
Luke's day goes from bad to worse when he realises losing the Showcase order is the least of his worries - first episode of evening
Aidan and Alya reveal they've lost the Showcase order but events go from bad to worse when the police arrive on the street and arrest Luke. At the station, Luke explains he was provoked by a stream of racist remarks but he is still charged with assault. Kevin, Luke, Alya and Sophie are later shocked to disturb a break-in at the garage.
With Beth nursing a fractured arm, Sinead admits she's not sure how much more she can take of Chesney's crazy behaviour. Tyrone calls Daniel a bully, pointing out that Ches is trying to do his best for his grieving son while Daniel makes his life a misery. Awash with guilt, and reminded of his own childhood, Daniel tells Chesney he's sorry and wants to bury the hatchet. In turmoil Chesney bares his soul to Sinead.
Seb begs Faye for another chance but she's adamant that whilst he believes Phelan over Anna, their relationship is dead in the water.
Roy arranges a birthday meal for Carla at the bistro, secretly hoping being greeted by her whole family will persuade Carla to stay. Brian breaks the news to Roy that he's moving out. Sophie's intrigued when she comes across a little wire model of a house in a drawer at Luke's flat. Luke explains Andy used to make them as a hobby.
First episode of evening.
Get the latest updates, reviews and unmissable series to watch and more!
Thank you for signing up to Whattowatch. You will receive a verification email shortly.
There was a problem. Please refresh the page and try again.