The Masked Singer US season 7: winner, reveals and everything we know
By Michael Balderston published
The Masked Singer US season 7 has wrapped up. Who won and who was behind all the masks?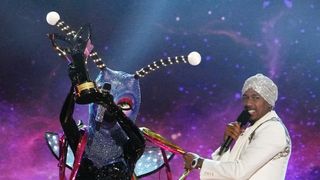 (Image credit: Michael Becker / FOX)
The Masked Singer US season 7 has wrapped up on Fox.
The reality competition series, which is based on South Korea's original iteration, has become a global phenomenon and this latest season has only continued that trend.
While some buzz was created ahead of the season when it was revealed that Rudy Giuliani would be participating, the show's usual fun costumes and performances took center stage.
But who was revealed as the winner of The Masked Singer season 7? And who were all the celebrities behind the masks? Here is everything that we know about The Masked Singer US season 7.
Who won The Masked Singer season 7?
After changing the format to have the contestants broken up into three teams — Team Good, Team Bad and Team Cuddly — the finals featured three members from Team Good: Firefly, The Prince and Ringmaster. And the winner is ... Firefly.
And who is the celebrity behind Firefly? It is none other than singer-songwriter Teyana Taylor.
The Masked Singer season 7 eliminations
As The Masked Singer US season 7 works to crown its champion, we're keeping track of all of the celebrities that have been unmasked and eliminated so far:
Week 1: McTerrier — Duff Goldman, TV chef
McTerrier was unmasked as TV pastry chef Duff Goldman in the first episode, which came as a shock to the judging panel who initially assumed it was someone Scottish. Judge Nicole Scherzinger guessed Ewan McGregor, but that wasn't the case!
Duff the executive chef of the Baltimore-based Charm City Cakes shop, which was featured in the Food Network series Ace of Cakes.
Week 2: Ram — Joe Buck, sports broadcaster
Team Bad's Ram was given the boot in week 2 of The Masked Singer US. With the unmasking it was revealed that Ram was sports broadcaster Joe Buck, which was actually predicted by some eagle-eyed fans in the premiere episode and was the final guesses by Robin Thicke and guest panelist Eric Stonestreet.
Buck is best known as the NFL and MLB announcer for Fox, but it was announced on March 16 that he, and broadcast partner Troy Aikman, were moving to ESPN.
Week 3: Thingamabob — Jordan Mailata, football player & Cyclops — Jorge Garcia, actor
There were two eliminations in week 3 of The Masked Singer US, but let's look at them one at a time.
Team Cuddly's Thingamabob was revealed to be Philadelphia Eagle Jordan Mailata. None of the hosts were able to guess it was Mailata under the mask, with guesses including fellow NFL stars JJ Watt and Michael Strahan, as well as Liam Hemsworth and Dennis Rodman.
Garcia, best known for his role on Lost, was the star under Team Bad's Cyclops. The hosts were also unable to figure out it was Garcia, throwing out guesses like director Kevin Smith, actor Dave Bautista, country star Zac Brown and actor Michael Keaton.
Week 4: Lemur — Christie Brinkley, supermodel
The first reveal of group B on The Masked Singer US season 7 was Lemur, who turned out to be supermodel Christie Brinkley. Ken Jeong correctly guessed Brinkley as the celebrity behind the mask, while other panelists theorized it was Goldie Hawn (Nichole Scherzinger), Pamela Anderson (Jenny McCarthy) and Melanie Griffith (Robin Thicke).
Brinkley, in addition to her supermodel career, is also well known for appearing as the woman in the Ferrari in National Lampoon's Vacation.
Week 5: Hydra — Penn & Teller, magicians
The famed pair of magicians, Penn Jillette and Teller, were revealed to be Hydra. It was a clever ploy as the famed monster with three heads only had two underneath it, with Teller (who doesn't typically talk) providing two of three voices that everyone heard in the performances.
Guest panelist Nicole Byer successfully predicted Penn & Teller were underneath the mask, while the rest of the panelists made guessed Will Arnett and Zack Galiafianakis (Ken Jeong), South Park creators Trey Parker and Matt Stone (Robin Thicke), Sesame Street's Bert & Ernie (Jenny McCarthy) and Will Ferrell and John C. Reilly (Nicole Scherzinger).
Week 6: Armadillo — Dog the Bounty Hunter & Miss Teddy — Jennifer Holliday, singer
In this week's double elimination, it was Armadillo and Miss Teddy that were unmasked, revealing reality star Dog the Bounty Hunter and singer Jennifer Holliday, respectively.
Both Jenny McCarthy and Nicole Scherzinger correctly guessed that Armadillo was Duane "Dog the Bounty Hunter" Chapman, while Robin Thicke theorized it was Stone Cold Steve Austin, Ken Jeong went for Al Pacino and guest panelist Leslie Jordan guessed (Gary Busey).
Scherzinger went two for two on the night, as she and Leslie Jordan correctly identified Miss Teddy as original Dreamgirl Jennifer Holliday. Other guesses from the panel included Yolanda Adams (Jeong), Gloria Gaynor (McCarthy) and Karen Clark Sheard (Thicke).
Week 7: Jack in the Box — Rudy Giuliani
The Masked Singer fans had been waiting to see Giuliani's reveal on the show since it was leaked he was one of the contestants prior to the season premiere, and here it is. The former mayor of New York City and controversial figure in the 2020 election fraud claims (to which no verifiable proof has ever been provided) was revealed as Jack in the Box.
None of the judge's were able to correctly guess who was under the mask. Jenny McCarthy thought it might have been Joe Pesci; Robin Thicke guessed Elon Musk; Ken Jeong threw out Elon Musk; while Nicole Scherzinger made a guess at Al Roker.
Week 8: Baby Mammoth — Kirstie Alley
Under the pink Baby Mammoth costume was actress Kirstie Alley, best known for her roles in classic sitcom Cheers and the Look Who's Talking movies. Fans were able to correctly suss out that this was Alley, but how did the panel do?
After initial guesses of Reese Witherspoon (Ken Jeong), Melissa McCarthy (Nicole Scherzinger) and Jenny's stab at one of Hollywood's famous Dianes (Keaton or Wiest), Jenny was able to correctly ID Alley with her final guest before the big reveal.
Week 9: Queen Cobra — En Vogue & Space Bunny — Shaggy
The final round for group 3 saw another double elimination. As Queen Cobra and Space Bunny's journey ended, Queen Cobra was revealed to be the musical trio En Vogue and Space Bunny was unmasked as Shaggy (one that viewers absolutely nailed).
En Vogue is an R&B group that was popular in the '90s for songs like "Hold On." While they were originally a quartet, just the trio (Terry Ellis, Cindy Herron and Rhona Bennett) appeared on the show. Shaggy is also a singer, best known for working in the reggae genre.
Here are En Vogue and Shaggy's exit interviews:
Week 10: There were no eliminations this week, as The Masked Singer aired a recap episode, but we did get a brand new clip of all of the contestants that have been unmasked (sans Rudy Giuliani) singing "Don't You (Forget About Me)" backstage. Watch the video right here:
Week 11: The Prince — Cheyenne Jackson & Ringmaster — Hayley Orrantia
The Prince was the first of the three finalists to be eliminated. After the judges made final guesses of Matt Bomer (Ken Jeong), Ricky Martin (Robin Thicke), Ben Platt (Jenny McCarthy) and Cheyenne Jackson (Nicole Scherzinger), it turned out Nicole was right as Jackson was revealed. Jackson is an actor best known for his work on Glee and American Horror Story, though he does have a Broadway background as well.
Ringmaster was the runner-up on the season. The judges weren't able to correctly guess who she was, going for Maren Morris (Thicke), Lucy Hale (Scherzinger), Hailee Steinfeld (Jeong) and Hayden Panettiere (McCarthy). Instead Ringmaster was revealed to be The Goldbergs actress Hayley Orrantia.
The Masked Singer season 8
There is more The Masked Singer on the way. Fox announced that the singing competition is coming back for its eighth season. While an official date has not been announced, the show will be part of the network's 2022-2023 TV lineup.
The Masked Singer season 7 host and judges
Nick Cannon returned as the host, while Ken Jeong (a man who always likes a wild guess!), Nicole Scherzinger, Jenny McCarthy-Wahlberg and Robin Thicke were all back as panelists.
Actor Leslie Jordan, actor and comedian Eric Stonestreet and comedian Nicole Byer served as guest panelists throughout the season.
What are the costumes?
Without a doubt part of the success of The Masked Singer has been the fantastic costumes that have been created for the show to hide the celebrity singers. In season 6 fans were treated to costumes like Queen of Hearts (Jewel), Baby (Larry the Cable Guy), Mother Nature (Vivica A. Fox) and Banana Split (the duo of David Foster & Katharin McPhee). So, what costumes are in store for The Masked Singer season 7?
After a promo that teased six costumes during the NFC Championship game, The Masked Singer Super Sneak Peek on February 20 officially introduced many of this season's costumes, broken up by the teams they will be competing in — The Good, The Bad and The Cuddly. And now all the costumes have been announced...
The Good
Firefly, McTerrier, the Prince, the Ringmaster and the Armadillo.
The Bad
Cyclops, Queen Cobra, Ram, Hydra and Jack in the Box.
The Cuddly
Space Bunny, Baby Mammoth, Thingamabob, Lemur and Miss Teddy.
The Masked Singer US season 7 clues
The Masked Singer Super Sneak Peek on Feb. 20 revealed the first official clues of season 7. Here they are for each revealed character so fans to start sleuthing:
McTerrier — Blue/white guitar with a Union Jack sticker.
The Prince — Wearing a letterman jacket with the number 30 on it
Firefly — A tiara
Cyclops — Treasure Map
Queen Cobra — Superhero with a question mark logo on their chest
Ram — Football helmet with the number 6 on it
Space Bunny — The state of North Carolina
Baby Mammoth — Ruby slippers
Thingamabob — Dwayne "The Rock" Johnson
Lemur — Ring mirror light
We hope that helps!
Michael Balderston is a DC-based entertainment and assistant managing editor for What to Watch, who has previously written about the TV and movies with TV Technology, Awards Circuit and regional publications. Spending most of his time watching new movies at the theater or classics on TCM, some of Michael's favorite movies include Casablanca, Moulin Rouge!, Silence of the Lambs, Children of Men, One Flew Over the Cuckoos Nest and Star Wars. On the TV side he enjoys Peaky Blinders, The Marvelous Mrs. Maisel, Saturday Night Live, Only Murders in the Building and is always up for a Seinfeld rerun.
Get the latest updates, reviews and unmissable series to watch and more!
Thank you for signing up to Whattowatch. You will receive a verification email shortly.
There was a problem. Please refresh the page and try again.