Meet the Poker Face cast: who's who in the mystery series
Natasha Lyonne headlines an all-star cast in the Peacock original series.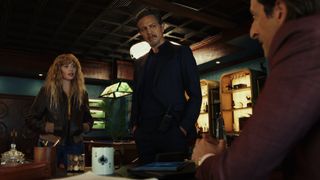 (Image credit: Peacock)
After working with some of the most well known name actors in TV and movies today with Knives Out and Glass Onion mystery movies, writer/director Rian Johnson is now making the jump to small screen with his latest project, Peacock's Poker Face. Much like his previous capers, the Poker Face cast is packed with huge names and familiar faces.
A throwback to series like Columbo and Murder She Wrote, Johnson has recruited top talent for his murder mystery series. Here's a deep dive into the who's who of this new procedural whodunnit, including a plethora of recognizable actors guest starring across different episodes.
Natasha Lyonne as Charlie Cale
Natasha Lyonne, the uber talented, always hilarious star of Russian Doll plays series protagonist Charlie Cale. Charlie is described as a whip-smart casino worker who has the uncanny ability to tell when people are lying, but has to go on the run after a series of bad decisions. In each episode, Charlie will be at the center of a mystery, as the episode features a procedural case-of-the-week format.
Lyonne, of course, cut her teeth in teen films like American Pie and But I'm a Cheerleader, before rising to prominence in her Emmy-nominated turns as Nikki Nichols from Orange is the New Black and Nadia Vulvokov in Russian Doll, which she co-created and has directed and written for as well. She will also be contributing to directing and writing on Poker Face.
Benjamin Bratt as Cliff Legrand
Chasing Charlie across the country is Benjamin Bratt's Cliff Legrand, head of casino security. Charlie gets into hot water with him, so she's trying to stay one step ahead of this persistent threat. Bratt described his character to Vulture (opens in new tab) as "an ex-soldier." "I know from knowing soldiers that they are very specific in behavior, in habituation. Precise in everything they do. And also they're dutiful," Bratt said.
Ever the debonair actor, Bratt got his big break playing Reynaldo Curtis on Law & Order from 1995 to 1999 before making the transition to the big screen with prominent roles in movies like Miss Congeniality, Doctor Strange and Coco.
Adrien Brody as Sterling Frost, Jr.
Behind Bratt's Legrande is the casino's boss, Sterling Frost, Jr., being played by Oscar-winner Adrien Brody. Following his breakout, Academy Award-winning role in The Pianist, Brody has starred in several high profile projects such as Peter Jackson's 2005 King Kong remake, 2010's Predators, Wes Anderson classics such as The Grand Budapest Hotel, Darjeeling Limited and The French Dispatch, and previously with Johnson in The Brother's Bloom.
Dascha Polanco as Natalie
Dascha Polanco portrays Charlie's friend, Natalie. The casting of Polanco is a reunion of sorts between herself and Lyonne, who starred together in Orange is the New Black, where she played Daya Diaz. Polanco has also been showcased in Jon M. Chu's In The Heights and in the Stallone superhero epic Samaritan from 2022.
Hong Chau as Marge
Newly christened Academy Award-nominee Hong Chau plays Marge in episode 2 of the series. Chau was nominated for Best Supporting Actress for her work in The Whale, but had a stellar 2022, also starring in the hit satire, The Menu. Chau has shown terrific performances in other titles like Watchmen and Downsizing.
Lil Rel Howery as Taffy Boyle
Poker Face also features Get Out star Lil Rel Howery. Howery plays a character named Taffy Boyle, who is brothers with a BBQ Pitmaster, in episode 3.
After stealing the show in Jordan Peele's modern day horror masterpiece, Howery has brought his brilliant sense of humor to hits like Free Guy and Bad Trip. Howery is playing more of a villain in his episode of the series, telling Deadline (opens in new tab), "You don't see me in a villain role a lot of times. It's very villainous, and I enjoyed everything about it."
Chloë Sevigny as Ruby Ruin
Indie darling Chloë Sevigny plays a heavy metal rocker named Ruby Rain in an episode 4 of Poker Face. This will be a reunion between her and Lyonne, who she collaborated with before in Russian Doll season 2. Nominated for an Oscar for her performance in Boys Don't Cry, Sevigny has starred in numerous acclaimed films, such as Love and Friendship, Queen and Slim and Bones and All.
Upcoming guest stars
Joseph Gordon-Levitt as Trey Mendez
A mainstay in the filmography of Rian Johnson, Gordon-Levitt is playing Trey Mendez an upcoming episode.
Gordon-Levitt was the lead in two out of six of Johnson's films, Brick and Looper. He's had cameos in every one of Johnson's films since (though some just as a voice, like being the "hourly dong" in Glass Onion). Other Gordon-Levitt roles include (500) Days of Summer, Inception, The Dark Knight Rises, Trial of the Chicago 7 and Mr. Corman.
Stephanie Hsu as Morty
Everything Everywhere All at Once Oscar-nominee Stephanie Hsu is playing Morty in a future Poker Face episode. Hsu also made appearances in Marvel' Shang Chi and shows like The Marvelous Mrs. Maisel and The Path.
Ron Perlman as Sterling Frost, Sr
Hellboy and Don't Look Up actor Ron Perlman is set to appear as Sterling Frost, Sr., the father to Adrien Brody's character. Perlman is a mainstay for director Guillermo del Toro, and can be seen in recent films like Guillermo Del Toro's Pinocchio and Nightmare Alley.
Ellen Barkin as Kathleen
Emmy winner and Golden Globe nominee Ellen Barkin is also joining in on the fun as a character named Kathleen. Barkin an Emmy-winner for the TV movie Before Women Had Wings, as well as recently playing Janine Cody in Animal Kingdom and The Handler in Kevin Hart's The Man from Toronto.
Nick Nolte as Arthur
Nick Nolte guest stars as Arthur. Nolte has been nominated for three Academy Awards for Warrior, Affliction and The Prince of Tides. He recently garnered success in the Star Wars universe playing The Mandalorian character Kuiil.
Tim Blake Nelson as Kyle Owens
Acclaimed character actor Tim Blake Nelson will be guest starring as Kyle Owens. Viewers have seen Nelson in HBO's Watchmen and the Coen Bros. legendary ensembles The Ballad of Buster Scruggs and O Brother, Where Art Thou?
Cherry Jones as Laura
Three-time Emmy-winner Cherry Jones is joining the Poker Face cast as Laura. Jones recently won an Emmy for guest actress for her work in Succession and has had stellar performances in shows like The Handmaid's Tale and 24.
Tim Meadows as Michael
Long time SNL alum Tim Meadows guest stars as a character named Michael. Meadows is best known for creating SNL character The Ladies Man, but has also appeared in Mean Girls and Walk Hard: The Dewey Cox Story and other popular comedies.
Luis Guzman as Raoul
Another legendary character actor, Luis Guzman is part of the Poker Face cast. Guzman has done terrific dramatic work in movies like Boogie Nights and Traffic, and can currently be seen as Gomez Addams in the Netflix smash hit Wednesday.
Jameela Jamil as Ava
With popular roles as Tahani on The Good Place and Titania in She-Hulk, Jameela Jamil joins Poker Face as a character named Ava. This is her second Peacock show, following Pitch Perfect: Bumper in Berlin.
Rhea Perlman as Beatrix Hasp
Legendary Cheers star Rhea Perlman plays Beatrix Hasp on the show. Perlman won four Emmys for Cheers, but has also had a terrific history of really hilarious supporting turns in movies like Matilda. She can be seen next in the Netflix comedy You People.
Poker Face is now streaming exclusively on Peacock, with new episodes releasing on Thursdays.
Get the What to Watch Newsletter
The latest updates, reviews and unmissable series to watch and more!
Mike is a proud, sarcastic nerd with a penchant for comic books, comic book movies, and movies in general, and occasional delusions of grandeur. He's also a UC Berkeley graduate who decided to go into writing over pre-med because he figured he'd ultimately save more lives by not being a doctor. He's a Slytherin and a Pisces, so he's very emotionally sensitive, yet also evil, but can be defeated by exploiting his insecurities. His goal is to live one hell of a unique life, and it's been working so far! His proudest moments are being retweeted by James Gunn and Ryan Reynolds in the same week, and getting 999,999 points on Buzz Lightyear Astro Blasters at Disneyland.
You can find Mike's writing around the web at publications like The Nerds of Color, What to Watch, Spoiler Free Reviews, and That's It LA.