What's new on Prime Video in May 2022
By Emily Price published
The Wilds season 2 and new sci-fi series Night Sky starring Sissy Spacek and J.K. Simmons highlight Prime Video's May.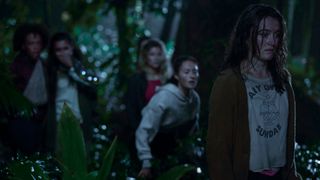 (Image credit: Amazon Studios)
Prime Video has got plenty of new content this May to keep viewers entertained. On May 6 we'll get The Wilds season 2. The Prime Video original will have more drama, new test subjects and next-level stakes. There's also the new sci-fi series Night Sky starring Sissy Spacek and J.K. Simmons set to premiere on May 20.
On the movie side, the 2022 Sundance Film Festival hit Emergency will make its streaming debut on May 27 and classic movies like A League of Their Own and Independence Day are being added to the Prime Video library.
Here's the full rundown of what Prime Video has in store for the month:
May 1
The Angriest Man in Brooklyn (2014)
Bad Influence (1990)
Battleship (2012)
Bill & Ted's Excellent Adventure (1989)
Bill & Ted's Bogus Journey (1991)
Blackfish (2013)
Courage Under Fire (1996)
Crank (2006)
Dodgeball: A True Underdog Story (2004)
Don't Be a Menace to South Central While Drinking Your Juice in the Hood (1996)
Dude, Where's My Car? (2000)
Enemy of the State (1998)
Europa Report (2013)
Eye for an Eye (1996)
Fargo (1996)
Fat Albert (2004)
Field of Dreams (1989)
The Guardian (2006)
Hitman (2007)
Independence Day (1996)
A League of Their Own (1992)
Lucky Number Slevin (2006)
Mamma Mia! (2008)
The Namesake (2007)
Office Space (1999)
Open Range (2003)
Pearl Harbor (2001)
Platoon (1986)
The Rage: Carrie 2 (1999)
Red Tails (2012)
Road to Perdition (2002)
Shrek (2001)
Shrek 2 (2004)
Sideways (2021)
Taken (2008)
Tangerine (2015)
Tombstone (1993)
Tooth Fairy 2 (2012)
The Ugly Truth (2009)
Valley Girl (1983)
Welcome Home Roscoe Jenkins (2008)
The Woods (2006)
Zero Dark Thirty (2013)
May 6
The Unsolved Murder of Beverly Lynn Smith
From Nathalie Bibeau, the director of The Walrus and The Whistleblower, The Unsolved Murder of Beverly Lynn Smith dives deep into the elaborate and controversial sting operation that was designed to investigate a suspect in the murder of 22-year-old Beverly Lynn Smith — but only ended up raising more questions.
The Wilds season 2
Survival hangs in the balance for a group of teenage girls stranded on a deserted island, after the explosive discovery that what's happening to them is an elaborate social experiment. Season 2 ups the drama and keeps you guessing, with the introduction of more test subjects – a new island of teenage boys – who must also fight for survival under the watchful eye of the experiment's puppet master.
May 13
The Kids in the Hall
The Kids in the Hall is back with a brand new iteration of the sketch series, featuring a fresh batch of fun offbeat characters and beloved favorites, with sketches that pack a satirical punch, laced with the hilarious, edgy and fearless comedy The Kids are famous for.
May 18
Lovestruck High
Lovestruck High is a brand-new, immersive reality dating show that transports 15 UK singles to a very special American High School setting for a second chance at finding love. In Lovestruck High, an eclectic and diverse class of students won't be going back to just any ordinary high school; they'll be fulfilling their teenage fantasies by entering the nostalgic picture-perfect world of an American High School. The students' ultimate assignment is to secure a date for Prom. Just who will be crowned Prom Royalty and win the $100,000 prize? The series is narrated by Lindsay Lohan.
May 19
Bang Bang Baby season 1 part 2
Bang Bang Baby is a crime drama set in Milan in 1986. Alice Giammatteo is 16 years old and lives with her mother Gabriella in a small, boring working-class town in Northern Italy. Her gray and monotone teenage existence could not be further removed from the glossy images depicted on TV. Everything suddenly changes when she is confronted with a shocking revelation: Alice discovers that her father, Santo Maria, whom Alice believed have been murdered years earlier, is actually still alive. Determined to see him, Alice sets out for Milan and gets engulfed by her father's family: the Barones, a clan belonging to the Milanese branch of a criminal organization. At its helm, is her ruthless grandmother Nonna Lina. Out of love for her father, Alice will begin her descent into the world of crime.
May 20
LOL: Si te ríes, pierdes
The new six-episode season produced by Banijay Iberia will once again bring together the best Spanish masters of monologues, impersonations, physical humor and improvisation — among others — and will offer the audience a hysterical competition where it is as important to keep a straight face as it is to provoke the laughter of your opponents. Anything goes in this show, except one thing: if you laugh, you lose. The last comedian to keep their composure during the 6-hour challenge will win the grand prize of 100,000 euros to donate to the charity of their choice.
Night Sky
Spanning space and time, Night Sky follows Irene and Franklin York, a couple who, years ago, discovered a chamber buried in their backyard that inexplicably leads to a strange, deserted planet. They've carefully guarded their secret ever since, but when an enigmatic young man enters their lives, the Yorks' quiet existence is quickly upended… and the mystifying chamber they thought they knew so well turns out to be much more than they could ever have imagined.
May 27
Emergency (2022)
Ready for a night of partying, a group of college students must weigh the pros and cons of calling the police when faced with an unusual emergency.
Kick Like Tayla (2022)
Kick Like Tayla shares a raw and unfiltered look into the life of AFLW player and boxing champion, Tayla Harris, as she confronts public and personal challenges, and channels her platform for good.
Emily is a freelance writer based in San Francisco. She's exceptionally passionate about what she does and her tech background coupled with my work as a television news producer helps her bring to the table a unique set of skills that you won't find anywhere else. You can keep up with what she's watching now on Twitter @emily
Get the latest updates, reviews and unmissable series to watch and more!
Thank you for signing up to Whattowatch. You will receive a verification email shortly.
There was a problem. Please refresh the page and try again.