Paramount Plus: Price, release date, movies, shows and more about the streaming service
The streaming service formerly known as CBS All Access.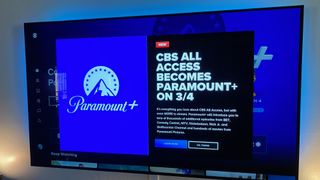 (Image credit: WhatToWatch.com)
CBS All Access became Paramount Plus on March 4, 2021. The transition has been months in waiting after parent company ViacomCBS announced the major rebranding in late 2020.
In a lot of ways, Paramount+ is a lot like the CBS All Access service we've come to expect. That means great CBS shows. That means great series from other ViacomCBS brands. It means a world of great movies from the larger Paramount family.
And it also will mean live sports on Paramount+ that you can't watch anywhere else in the United States.
Let's dive into it — this is everything you need to know about Paramount+.
What is Paramount Plus?
Paramount Plus is the streaming service formerly known as CBS All Access. Why the change? Paramount is a more global brand, whereas CBS is a domestic U.S. thing.
You'll be able to watch all your favorite CBS All Access shows like Star Trek: Discovery, Star Trek: Picard, The Stand, The Twilight Zone, The Good Fight and more on Paramount Plus, just as you did on CBS All Access.
Same goes for all the other ViacomCBS content you've come to known and love on CBS All Access. That includes all the incredible content from the Smithsonian Channel. Everything from BET, Comedy Central, MTV and Nickelodeon. And it means all the CBS shows.
And just like CBS All Access, Paramount Plus will will have a ton of Paramount Pictures films at the ready.
Paramount+ also will see new films premiere on the streaming service. That includes The Spongebob Movie: Sponge on the Run, as well as the spin-off series Kamp Koral.
Other new original series on Paramount+ include:
The Offer: A 10-episode series based on the making of The Godfather.
Lioness: A spy drama from Yellowstone creator Taylor Sheridan based on a real CIA program that follows a young Marine recruited to befriend the daughter of a terrorist.
MTV's Behind the Music — The Top 40: A reimagined version of the classic show that looks at the 40 biggest music artists of all time.
The Real Criminal Minds: A true-crime docuseries based on the hit CBS show.
A revival of The Game as part of BET's programming on Paramount+.
An expansion of the Yellowstone universe with hows like Y:1883, 6666, Mayor of Kingstown and Land Man.
And that's just barely scratching the surface. For more, see the full list of new originals coming to Paramount+.
And we've already got our picks for the best shows on Paramount+.
How much does Paramount Plus cost?
Paramount+ launched with the same pricing scheme as CBS All Access. That means there's a premium tier that doesn't have advertising on the on-demand content, and a less expensive tier that does.
So long as you don't mind advertising, you can watch Paramount+ for as little as $4.99 a month, or $49.99 a year. There's a catch with that lesser service, though. Unlike with the ad-supported version of CBS All Access (or the grandfathered $5.99-a-month Paramount+ plan), that cheaper option won't include a live stream of your local CBS affiliate.
Or if you can't stand ads (who can, really?) and want to get rid of most of them, the premium tier runs $9.99 a month, or $99.99 a year. Both of those options come with free one-week trials.
And there's a Paramount+ free trial that lets you watch for a week before being charged.
The Paramount+ price in other countries varies a little but is in line with what you'll see in American dollars.
When does Paramount Plus launch?
Paramount+ launched in the United States on March 4, 2021. Apps that were branded as CBS All Access transitioned to the new service.
In other words, current CBS All Access subscribers didn't have to do a thing to watch Paramount+. (Except maybe dig up their email and password to log back in.) If you used a CBS All Access app before, it should have seamlessly transitioned to become Paramount+. For instance: In order to watch Paramount+ on Roku, you just look for the updated app icon. The old CBS All Access app is now Paramount+.
The biggest change probably was if you only streamed via the website. That required you to log back in. But that's hardly a big deal — especially if you're using a password manager. (And you really should be!)
Where is Paramount Plus available?
Along with the change from CBS All Access to Paramount+ in the United States, Paramount+ will debut in new international markets, too.
That includes Latin America on March 4, the Nordics on March 25, 2021, and Australia in mid-2021.
Will I still get CBS on Paramount Plus?
You'll still be able to watch a live stream of your local CBS affiliate on Paramount Plus. That's handy for things like watching the NFL on CBS on Paramount+, or other live sporting events.
Or even if you just want to catch your local news on Paramount+, you'll be able to do it just the same as you did on CBS All Access.
And if you have a current cable subscription (or a subscription to some other streaming service like YouTube TV), you'll be able to log in to watch that live CBS feed. But you'll still have to pony up for all the on-demand content.
Are there sports on Paramount Plus?
Yes! Just as there are sports on CBS All Access, there are live sports on Paramount+. That includes domestic sports like the PGA Tour, college football, and more. (You'll need your local CBS affiliate for a lot of that.) And, yes, you'll be able to watch the NFL on Paramount+.
And Paramount Plus also will still have the exclusive sports we've come to enjoy on CBS All Access. That's things like the UEFA Champions League, which pits the bets European football (soccer) clubs against each other. It means things like the U.S. National Women's Soccer League.
And that's just for starters.
New to Paramount+ will be more international football, including more than 200 CONCACAF matches (that's the horrible acronym for Confederation of North, Central America and Caribbean Association Football). Included in that are the U.S. Men's National Team, and qualifiers for the FIFA WOmen's World Cup 2023.
Paramount+ also will be home to Argentina's Liga Profesional de Futbol, as well as Brazil's Campeonato Brasileiro Serie A league.
What are the best movies on Paramount Plus?
Picking the best movies on Paramount Plus is a subjective endeavor, to be clear. But that's why we get paid the big bucks.
The cool part is that Paramount+ isn't just about new movies. And it isn't just about old movies. It runs the gamut, from classics that are upwards of 60 years old, to new hits that came out the past couple years.
You'll find Hitchcock to Tom Cruise. (There's a lot of Tom Cruise, actually.) You'll find the original wave of Star Trek movies. You'll find the full Indiana Jones series. You'll find all three Godfather films — including the newly reworked Coda.
So, yeah. Paramount+ has movies. A lot of movies. Some of the best movies.
What do I have to do to transition to Paramount Plus?
This is the really cool part. You won't have to do anything to switch from CBS All Access to Paramount+. Instead of going to CBS.com/all-access, you'll go to ParamountPlus.com. (And if they do things right, CBS All Access will just redirect to Paramount+.)
Your existing CBS All Access email and password will work on Paramount+.
There's a good chance that you also won't even have to download a new app and that the old CBS All Access apps will just update to become Paramount+. We'll know more about that as we get closer to March 4, however.
Phil spent his 20s in the newsroom of the Pensacola (Fla.) News Journal, his 30s on the road for AndroidCentral.com and Mobile Nations, is the Dad part of Modern Dad, and is editor of WhatToWatch.com.
Get the latest updates, reviews and unmissable series to watch and more!
Thank you for signing up to Whattowatch. You will receive a verification email shortly.
There was a problem. Please refresh the page and try again.