BritBox vs Netflix — which streaming service is better for you?
BritBox vs Netflix — which is right for you?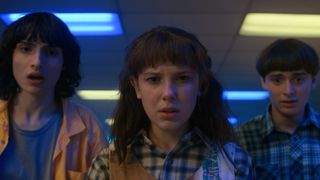 (Image credit: Netflix/)
BritBox vs Netflix— which one is right for you?
As there are so many streaming services out there these days, it's becoming harder and harder to find your perfect fit. Alongside BritBox and Netflix, there's Disney Plus, Apple TV Plus, HBO Max, Prime Video... the list only seems to get longer.
If you're in the middle of trying to work out what the best streaming services are, and which ones you should be subscribing to, we've pitted BritBox and Netflix against one another to try and make that decision just a little bit easier.
So, read on to find out everything you need to know as we see compare BritBox vs Netflix and find out which one comes out on top.
BritBox vs Netflix: Overview
Netflix doesn't really need that much of an introduction; we'd bet a solid amount of people reading this are already signed up already. As of October 2022, the streaming giant said it had 223 million subscribers around the world, despite losing a significant number in the first half of the year. (via The New York Times (opens in new tab)).
For those not in the know, Netflix boasts an ever-evolving on-demand library of movies and TV shows, many of which become must-watches when they arrive on the scene.
BritBox, by comparison, is much more niche. Rather than trying to stand alongside streaming juggernauts as your new default service, BritBox instead bills itself specifically as the go-to service for British TV.
It boasts a much larger library of classic and modern British shows than any other service out there; when we compared BritBox vs Acorn TV, came out on top as the streamer of choice for British shows.
BritBox vs Netflix: Pricing and Free Trials
Netflix is far more complicated on the pricing front, so we'll start there. Thanks to the newly-introduced ad-supported Netflix plan, there are now four subscriptions to choose from.
For $6.99|£4.99 a month, you can get Basic with ads, which is the streamer's cheapest option. The main thing to note here is that some shows and movies are not available with this cheaper plan. Check out our breakdown of the biggest shows and movies missing from Netflix's ad-supported plan to learn more.
From there, you're in familiar territory with the other three plans. For $9.99|£6.99 a month, you can get access to Netflix's "Basic" package, which is the cheapest, ad-free option available.
The most popular package is the "Standard" option, which will run you $15.49|£10.99 a month. Viewers who want to watch in 4K will need to spring for the "Premium" package, which costs $19.99|£15.99.
You can see a full breakdown of what each package gets you below:
Finally, It's also worth noting that, unlike most other services, Netflix does not offer annual plans as an option.
BritBox, by comparison, keeps everything super simple. A monthly subscription for the service costs $7.99|£5.99 a month, but you can also opt to pay yearly for $79.99|£59.99. Opting to pay annually will net you 12 months' access for the price of ten!
If you want to try both services before you sign up, we've got some bad news for you: Netflix stopped offering free trials a while ago. However, new customers can still try BritBox free for seven days in either the US or the UK
If you're thinking of signing up for a new streaming service, be sure to take a look at our best streaming deals guide to see if you can save some money when you make up your mind.
BritBox vs Netflix: Availabilty
BritBox is currently available in 9 countries: Australia, Canada, South Africa, the United States, the UK Sweden, Finland, Denmark, and Norway.
Viewers in the US and Canada can use their subscriptions in either region, and subscribers in the Nordic countries can watch BritBox in any EU country. However, the UK service is standalone, and subscriptions from there cannot be used elsewhere.
BritBox is available on Apple TV, Amazon Fire TV devices, Chromecast, YouView set-top boxes, selected smart TVs, iOS and Android mobile devices, Roku, and in-browser. Prime Video users can also pick up BritBox as a Prime Video Channel.
By comparison, Netflix is available in more than 190 countries, so it's easier to list where it isn't available. Currently, those regions are China, Crimea, North Korea, Russia, and Syria, per the streamer's help center (opens in new tab).
With Netflix having been around quite as long as it has, it's also been made available on a large range of devices. You can currently watch Netflix on: Android and iOS devices, Facebook Portal, Roku, Apple TV, Chromecast, a range of smart TVs, PlayStation and Xbox games consoles, PCs, and in your browser.
BritBox vs Netflix: what can you watch?
Please note: content mentioned may not be available in all regions, and is subject to change.
As we've already mentioned, Netflix is a streaming juggernaut, meaning it really does offer something for everyone. Whether you're after the streamer's originals, movies, comedies, true-crime dramas, cartoons, documentaries, family programming or even stand-up, there's a solid bet you'll find something to watch on Netflix.
Some of the service's best-known and most talked-about recent shows include Bridgerton, Squid Game, Stranger Things, The Witcher, Sex Education, The Crown, The Watcher, You, Selling Sunset, Monster: The Jeffrey Dahmer Story Inventing Anna, Ozark, and Emily in Paris, to name but a few.
Film fans are just as well-served by the streamer. You can find a huge library of movies to suit any taste on the platform, including modern classic, blasts from the past and exclusives like The Adam Project, The Gray Man, Fear Street trilogy, Blonde, Spiderhead, The Mitchells vs. The Machines, The Good Nurse and Wendell and Wild.
Here on What To Watch, we publish a monthly list of what's new on Netflix, and we have a huge list of the best Netflix shows and series, plus more curated lists including recommendations for the best Netflix documentaries.
BritBox also has a sizeable content library, but its all more specifically targeted at fans of British TV. For readers less acquainted with British shows, that means the service is home to faves like Gavin & Stacey, The Inbetweeners, Only Fools and Horses, Peep Show, Downton Abbey, classic Doctor Who and Fawlty Towers plus some of the latest and greatest offerings from British broadcasters like the BBC, ITV, Channel 4 and Channel 5. Some of those newer offerings include Karen Pirie, Grace, New Spitting Image, Shetland, Buffering and The Ipcress File.
Fans of reality TV and soaps will also be well-served by the box sets of Love Island, The Only Way is Essex, Strictly Come Dancing, Footballers Wives, Coronation Street, EastEnders, and Emmerdale, too.
BritBox has also started developing a selection of original programming. Recent BritBox originals include Secrets of the Krays, Mag, Feel the Noise, The Beast Must Die, The Dry, Murder in Provence, Irvine Welsh's Crime and Why Didn't They Ask Evans?
The movie selection isn't nearly as big as Netflix's, but there's still some notable releases like The Mummy, Sexy Beast, Wild Rose, Les Miserables, Attack the Block alongside The 39 Steps, Time Bandits, and the whole selection of Carry On films.
UK audiences will no doubt be aware that a lot of the popular shows on BritBox can also be streamed for free via BBC iPlayer and ITV Hub. Eventually, new shows from these free streaming platforms may migrate over to BritBox for wider consumption.
BritBox vs Netflix: our verdict
Unlike our comparison of BritBox vs Acorn TV, BritBox and Netflix isn't really a fair fight. Netflix has been around for a lot longer and has partnerships with distributors all across the globe.
BritBox instead feels more like a supplement to your streaming habits. It's highly unlikely to become your go-to service, but it's still home to a growing library of shows and movies that you definitely shouldn't skip over entirely.
That being said, if you only want to pay for one streaming service, the choice is fairly clear. Netflix offers viewers a lot more versatility. Subscribers can choose whether they want 4K streaming, they have access to a much broader range of content, and Netflix has more features built into the service than BritBox does right now.
So, whilst we still think BritBox is worth your time (and money), Netflix is the better choice of the two if you're committed to only paying for one single streaming service.
Staff Writer at WhatToWatch.com
Martin is a Staff Writer with WhatToWatch.com, where he produces a variety of articles focused on the latest and greatest films and TV shows.
Some of his favorite shows are What We Do In The Shadows, Bridgerton, Gangs of London, The Witcher, Doctor Who, and Ghosts. When he's not watching TV or at the movies, Martin's probably still in front of a screen playing the latest video games, reading, or watching the NFL.
Thank you for signing up to Whattowatch. You will receive a verification email shortly.
There was a problem. Please refresh the page and try again.