2023 US Spring TV preview: 15 shows you can't miss
Plus, all of the premiere dates for new and returning TV shows.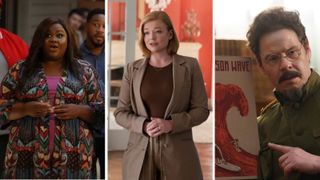 (Image credit: NBCUniversal/HBO/Hulu)
Spring TV doesn't always get the fanfare it deserves. Historically, fall marks the start of the new TV season, while winter usually sees the second wave of new shows. But with the traditional broadcast TV structure giving way to the more year-round joy of streaming, new TV shows are starting to pop up like flowers in the spring season.
With that in mind, the US team of What to Watch has picked the 15 shows that we are most excited to watch this spring TV season (anything premiering between March 1 and May 31). From another adventure in a galaxy far, far away to TV adaptations of a classic '80s movie, here's what we can't wait to watch.
Shows are listed in order of their premiere date.
WTW's spring TV picks
The Mandalorian season 3
March 1 on Disney Plus
If we're being honest, Disney's stewardship of Star Wars hasn't been the smoothest of rides. We all know how divisive the sequel trilogy is, Solo was a flop and Rogue One, though the best new movie since the original trilogy, was fraught with difficulties. Things have looked better as of late with Andor, but this spring we're getting a new season of what has been Disney's biggest Star Wars hit to date: The Mandalorian season 3.
Mando (Pedro Pascal) and Grogu (aka Baby Yoda) are back for more space adventures with a new mission: a return to Mandalore to not only have Mando forgiven his transgressions, but possibly restore the Mandalroians' home to its former glory. — Michael Balderston
Grand Crew season 2
March 3 on NBC
Grand Crew coming back for a second season is an amazing thing. In its first season, the show proved to be a hidden gem that showed the comedic side of being Black, in your 30s and still very much confused about this thing called life. The friend group at the heart of the series, which features funny woman Nicole Byer, has a way of helping each other navigate their love lives and careers that not only resonates with viewers, but keeps fans entertained. — Terrell Smith
9-1-1 season 6 returns
March 6 on Fox
After six seasons we know that when it comes to midseason premieres, 9-1-1 knows how to turn up the heat. After a thrilling first half of the season that saw Athena (Angela Bassett) and Bobby (Peter Krause) take a journey into Athena's past while Hen (Aisha Hinds) found out just how much she can handle, the second half of the season promises some big action and high stakes.
In a sea of first responder procedurals, Ryan Murphy and Brad Falchuk love taking fans to the edge of their seats. These characters have all been through a lot over the years and the second half of season 6 is a good time to shake things up. — Sarabeth Pollock
History of the World Part II
March 6 on Hulu
Forty-two years ago Mel Brooks promised us a History of the World Part II and now he is delivering, with the help of some of the best comedy writers and performers of today. Nick Kroll, Ike Barinholtz, Wanda Sykes, Quinta Brunson, Josh Gad, Kumail Nanjian, D'Arcy Carden, Sarah Silverman, Taika Waititi, Seth Rogen, Jillian Bell and Hannah Einbinder are just some of the cast that are going to parody historical events, which by the look of things include the invention of the telephone, Harriet Tubman, Sigmund Freud and more. It's a four-part series airing on consecutive nights, so go ahead and clear your schedule. — Michael Balderston
Gotham Knights
March 14 on The CW
When it comes to DC shows and movies, Batman and the characters attached to him have always been popular. So we anticipate Gotham Knights will also strike a chord with many people this spring.
What makes Gotham Knights different from the usual Batman-driven shows is that in this new CW drama, Bruce Wayne aka Batman is dead, and it's up to a new crop of heroes to fill in the void as chaos unfolds in the city of Gotham.
For those wondering how this show plays into James Gunn's DC universe, simply put, it doesn't. Gotham Knights is a standalone project. — Terrell Smith
Ted Lasso season 3
March 15 on Apple TV Plus
It's finally time to head back to AFC Richmond. About a year-and-a-half from the conclusion of season 2, Ted Lasso returns this spring, and as the teaser trailer (opens in new tab) showed us, we're all ready to believe in this underdog story once again. Ted Lasso season 3 could be the final episodes of the comedy series (though that has not been confirmed), but at the very least we know that Ted (Jason Sudeikis) and his former protege Nate (Nick Mohammed) are set up for a collision course.
Renew, sign up or do whatever you need to to get Apple TV Plus back again so you don't miss an episode of Ted Lasso. — Michael Balderston
Swarm
March 17 on Prime Video
Swarm is an all-around exciting project for a few different reasons. For starters, the dark dramedy marks co-creator Donald Glover's return to the small screen after wrapping his Emmy-winning series Atlanta (to be clear, he helped create the new series but is not set to star in it). Then there's the fact that Swarm draws its inspiration from the legion of Beyoncé fans affectionately known as the Beyhive. Oh and we can't forget to mention, that the new Prime Video series stars Snowfall's Damson Idris and Beyoncé's very own protege, Chloë Bailey. — Terrell Smith
Lucky Hank
March 19 on AMC
After the incredible ending to Better Call Saul, Bob Odenkirk could read a terms and conditions agreement and it would probably make for some entertaining TV. We won't have to put that theory to the test though as his latest series, Lucky Hank, is a dark comedy based on a book from Pulitzer Prize-winning author Richard Russo.
While Better Call Saul could also be described as a dark comedy, everything we've seen of Lucky Hank seems to indicate that the comedy is going to play a heavier factor than in Saul. Anyone who knows how funny Odenkirk can be should be celebrating that. — Michael Balderston
Waco: American Apocalypse
March 22 on Netflix
This three-part documentary continues to feed into our current fascination with true crime stories. Waco: American Apocalypse takes would-be viewers back to 1993, when a 51-day standoff between the US government and the Branch Davidian religious sect led by David Koresh resulted in 86 people losing their lives. According to Netflix, the new docuseries features "never-before-seen material as well as realistic CGI visualizations."
For those not as familiar with what happened, we recommend you prepare yourself to gasp in disbelief and pure shock. — Terrell Smith
Succession season 4
March 26 on HBO
A divided house cannot stand... or can it? Logan Roy (Brian Cox), patriarch of the Roy family and head of Waystar Royco, learned that his three kids — Kendall (Jeremy Strong), Shiv (Sarah Snook) and Roman (Kieran Culkin) — were planning to use their veto to block the sale of the company and take control themselves. Logan was tipped off by Shiv's husband, Tom (Matthew MacFayden), who was hoping to curry favor with the patriarch even though Logan was ready to sacrifice Tom to the wolves earlier in the season.
In Succession season 4, the dust will settle and the family will be put to the ultimate test: what matters more, family or power? — Sarabeth Pollock
Yellowjackets season 2
March 26 on Showtime
Yellowjackets season 2 promises to deliver more answers to our burning questions about what really happened after a group of young women found themselves stranded in the middle of the harsh Ontario wilderness following a plane crash. We've seen pieces of the puzzle about how the group spiraled out of control in their quest to stay alive, both in the aftermath of the plane crash as young girls and later on in life as adults still trying to cope with what happened all those years ago. Now in season 2 we'll learn more about that harrowing experience and how it changed their lives forever. — Sarabeth Pollock
RapCaviar Presents
March 30 on Hulu
RapCaviar Presents is a show literally based on a Spotify playlist. The seven-episode docuseries sees some of today's top-charting hip-hop artists discuss big moments in their careers and tackle some of the most provocative issues impacting the genre. In the series' first season, musicians like Tyler the Creator, Jack Harlow, Megan Thee Stallion, Doja Cat, Saweetie and Roddy Ricch are set to appear.
At this time we aren't sure when the episodes were recorded, so we can't say whether or not Megan Thee Stallion in particular addresses the Tory Lanez trial. — Terrell Smith
Schmigadoon! season 2
April 7 on Apple TV Plus
Spring often puts a pep in people's step, and Schmigadoon season 2 is on its way to provide some background music too. The Apple TV Plus series returns ready to pay humorous homage to musicals once again. Following the 1950s-era style of season 1, the new season ratchets things up with musical numbers that harken back to Chicago and other '60s and '70s era musicals. What songs are in store for Melissa (Cecily Strong) and Josh (Keegan-Michael Key) this time around? — Michael Balderston
Fatal Attraction
April 30 on Paramount Plus
The classic movie starring Michael Douglas and Glenn Close is getting a modern update with Fatal Attraction the series. Joshua Jackson plays Dan Gallagher and Amanda Peet plays his wife, Beth. When Alex (Lizzy Caplan) comes into Dan's life, everything is turned upside down. The new series explores themes of strong women, coercion and the nature of marriage and infidelity, examining them under the gaze of ever-changing modern lenses. — Sarabeth Pollock
Fear the Walking Dead season 8
May 14 on AMC
It's the beginning of the end for Fear the Walking Dead. With season 8 confirmed to be the final season, the May 14 premiere sets up the final journey for the survivors. They've braved everything from nuclear winters to doomsday preppers, but the worst is yet to come as we learn more about the mysterious community known as PADRE and what their true motivations are.
Since the end of season 7, Morgan (Lennie James), Madison (Kim Dickens) and the other survivors have found themselves living in unfamiliar territory. It's not what they originally expected, so now the big question is whether they accept their new lives at PADRE or work to get back to living on their own terms. — Sarabeth Pollock
US Spring TV schedule
Here is the complete premiere schedule for spring TV in the US:
March 1
March 2
March 3
Daisy Jones and the Six (Prime Video)
The Exhibit: Finding the Next Great Artist (MTV)
Grand Crew season 3 (NBC)
Next in Fashion season 2 (Netflix)
March 4
Say Yes to the Dress season 22 (TLC)
Secret Sauce With Todd Graves (A&E)
March 5
Be My Guest With Ina Garten season 3 (Food Network)
How the Universe Works (The Science Channel)
March 6
History of the World Part II (Hulu)
Omega: Gift and Curse (ALLBLK)
Perry Mason season 2 (HBO)
Rain Dogs (HBO)
Rock the Block season 4 (HGTV)
Spring Baking Championship season 9 (Food Network)
Spring Baking Championship: Easter season 3 (Food Network)
The Voice season 23 (NBC)
March 7
Blood & Money (CNBC)
That's My Jam season 2 (NBC)
Who Killed Robert Wone? (Peacock)
March 8
March 9
March 10
Outlast (Netflix)
Real Madrid: Until the End (Apple TV Plus)
Sin Eater (FX)
Unprisoned (Hulu)
March 12
March 13
Street Outlaws: Fastest in America (Discovery)
March 14
Gotham Knights (The CW)
Return to Amish season 7 (TLC)
March 15
Ted Lasso season 3 (Apple TV Plus)
March 16
March 17
Agent Elvis (Netflix)
Dance 100 (Netflix)
Extrapolations (Apple TV Plus)
Monster Factory (Apple TV Plus)
Power Book II: Ghost season 3 (Starz)
Put a Ring on It season 4 (OWN)
March 19
March 21
Restaurants at the End of the World (Nat Geo)
March 22
Digman! (Comedy Central)
Waco: American Apocalypse (Netflix)
March 23
The Night Agent (Netflix)
March 24
March 26
Great Expectations (Hulu)
Rabbit Hole (Paramount Plus)
Ride (Hallmark Channel)
Seeking Brother Husband (TLC)
Succession season 4 (HBO)
Yellowjackets season 2 (Showtime)
March 27
March 29
The Big Door Prize (Apple TV Plus)
Emergency New York (Netflix)
March 30
RapCaviar Presents (Hulu)
Unstable (Netflix)
March 31
Doogie Kamealoha, M.D. season 2 (Disney Plus)
The Power (Prime Video)
April 2
CMT Awards (CBS)
Royal Crackers (Adult Swim)
April 3
Martha Cooks season 2 (The Roku Channel)
Race to Survive Alaska (USA)
April 5
Dave season 3 (FXX)
Dr. Pimple Popper (TLC)
April 6
April 7
The Legacy of J Dilla (FX)
Schmigadoon! season 2 (Apple TV Plus)
April 11
Am I Being Unreasonable? (Hulu)
The Wall (NBC)
April 14
Blindspotting season 2 (Starz)
Jane (Apple TV Plus)
The Last Thing He Told Me (Apple TV Plus)
April 16
Waco: The Aftermath (Showtime)
April 17
You, Me & My Ex season 2 (TLC)
Weakest Link season 2 (NBC)
April 18
April 20
April 21
Dead Ringers (Prime Video)
Dear Mama (FX)
April 22
Chasing the Rains (BBC America)
April 23
April 26
Iconic America: Our Symbols and Stories with David Rubenstein (PBS)
Saint X (Hulu)
April 27
April 28
The Afterparty season 2 (Apple TV Plus)
April 30
Fatal Attraction (Paramount Plus)
Tom Jones (PBS)
Stone Cold Takes on America (A&E)
WWE's Most Wanted Treasures season 2 (A&E)
May 1
May 4
May 5
Mama June: Family Crisis (WE TV)
Taste the Nation With Padma Lakshmi season 3 (Hulu)
May 7
2023 MTV Movie & TV Awards (MTV)
May 12
City on Fire (Apple TV Plus)
The Great season 3 (Hulu)
May 14
Fear the Walking Dead season 8 (AMC)
May 22
Prehistoric Planet season 2 (Apple TV Plus)
May 25
May 26
Run the World season 2 (Starz)
May 30
Doubling Down with the Derricos (TLC)
Get the What to Watch Newsletter
The latest updates, reviews and unmissable series to watch and more!
Michael Balderston is a DC-based entertainment and assistant managing editor for What to Watch, who has previously written about the TV and movies with TV Technology, Awards Circuit and regional publications. Spending most of his time watching new movies at the theater or classics on TCM, some of Michael's favorite movies include Casablanca, Moulin Rouge!, Silence of the Lambs, Children of Men, One Flew Over the Cuckoos Nest and Star Wars. On the TV side he enjoys Peaky Blinders, The Marvelous Mrs. Maisel, Saturday Night Live, Only Murders in the Building and is always up for a Seinfeld rerun. Follow on Letterboxd (opens in new tab).