Summer TV 2023: top 10 shows to watch
Plus, a full calendar of what is premiering this summer on US TV.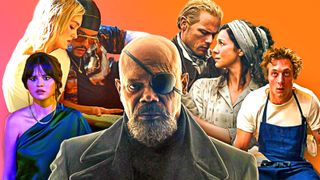 (Image credit: Future)
Between the vacations, barbecues, pool days and other summer activities, you're going to need something to watch these summer months. What to Watch has already highlighted blockbuster and indie movies that you can head out to the multiplex to watch this summer, but if you're in the mood for a night in but still want to watch some great content, well we've got you covered when it comes to the summer TV slate.
We have picked the 10 summer 2023 US TV shows that we are most excited to watch over the next few months. They range from new series with some major names to old favorites to a guilty pleasure or two for mindless summer fun. But we've also provided you with the complete list of US TV show premieres over the next three months, so you can see what may interest you and when/where it is playing.
The summer TV schedule starts right away with some big time shows, so let's just dive right on in to the TV shows we're most excited to watch this summer (shows are listed in order of their release date).
What to Watch staff summer TV picks
1. FUBAR (May 25)
The first thing that probably comes to mind when thinking of Arnold Schwarzenegger is his action roles, but his comedic abilities should not be underestimated. He's getting the chance to flex both of those muscles in the new Netflix series FUBAR, where he stars as a CIA agent on the verge of retirement, brought back in when he discovers that his daughter (Top Gun: Maverick's Monica Barbaro) is also an agent. Blockbuster movies get to just be fun, so why not a TV show? FUBAR has that kind of feeling and we're here for it. — Michael Balderston
2. The Idol (June 4)
HBO's newest original series The Idol, co-created by Abel "The Weeknd" Tesfaye, Reza Fahim and Euphoria's Sam Levinson, has been generating buzz from Cannes after the first two episodes debuted at the festival. Lily-Rose Depp stars as aspiring pop-star Jocelyn, who is taken under the wing of the charismatic Tedros (Tesfaye), a self-help guru and cult leader. The result is a mind-bending descent into the high price of fame and the belief that there's no price too high to achieve it. It's sure to be the new series that everyone is talking about. — Sarabeth Pollock
3. Star Trek: Strange New Worlds season 2 (June 15)
With Star Trek: Strange New Worlds, fans were transported to the early adventures of the USS Enterprise and her crew. Unlike some of the other Star Trek series, the show features more of a story-of-the-week format, with a few plot points running through the entirety of the season. At the end of the first season, Spock's half-brother Sybok showed up and there's no question he's going to cause trouble for Spock (Ethan Peck), Captain Pike (Anson Mount) and the crew of the Enterprise. And after getting to know the crew in season 1, we're ready to boldly go on new adventures in season 2. — Sarabeth Pollock
4. Outlander season 7 (June 16)
Jamie (Sam Heugan) and Claire (Caitríona Balfe) are back with Outlander season 7, as the epic tale of love, loss and time travel continues. It has been over a year since the last new episode and fans have been eagerly anticipating the supersized seventh season. Half of the 16 episodes will air beginning in June, while the other half will debut at a later date. Season 7 will see the several new faces as well as the return of several fan-favorite actors, including Graham McTavish and Steven Cree. — Sarabeth Pollock
5. The Walking Dead: Dead City (June 18)
The Walking Dead franchise has been on television since 2010, but now it's taking the story to a whole new playground with The Walking Dead: Dead City. This time the show will be set in New York City, offering fans a glimpse of the horrors that have befallen the city. Forests of trees have been replaced by a forest of derelict skyscrapers. Maggie (Lauren Cohan) recruits her mortal enemy Negan (Jeffrey Dean Morgan) to help her find her son, who was kidnapped and taken to the Big Apple by a new villain. Can they put aside what happened in the past long enough to work together to save Hershel? — Sarabeth Pollock
6. Secret Invasion (June 21)
In many ways, Secret Invasion feels like a necessary return of the Marvel universe back to the basics, with Director Nick Fury (Samuel L. Jackson) at the helm. Marvel fans know that Fury has been a strong presence in the MCU since first appearing in Iron Man, so seeing him lead his own series is a reminder that while more Avengers and villains appear in the expanding superhero world, the franchise hasn't forgotten its cinematic roots.
Secret Invasion follows Fury as he engages in a top-secret mission to defend the world against the infiltration of the alien species known as the Skrulls. While the series sees a number of new faces, Cobie Smulders returns as Maria Hill and Don Cheadle as Rhodey. — Terrell Smith
7. The Bear season 2 (June 22)
Hate to admit it, but I was late to the game on The Bear, but when I finally sat down to watch it I quickly understood why this show had everyone talking last summer. The feverish pace when the heat is on in the kitchen and everyone is going a mile a minute was enthralling, while it was easy to fall for this cast of characters and all their quirks and issues, led by a phenomenal performance by Jeremy Allen White. Now that I am caught up though, I am certainly not going to be missing The Bear season 2 as soon as it arrives. The restaurant may be changing, but I have a feeling much of what we loved about this show will not. — Michael Balderston
8. Black Mirror season 6 (June TBD)
After roughly four years since a new episode aired, Black Mirror season 6 is easily one of the most anticipated returns of 2023 in our book. The series is known for its dark fiction and satirical nature that always leaves viewers entertained, yet contemplating the social implications of what they watched. To date, one of the most well-received episodes from season 3, titled "Nosedive," featuring Bryce Dallas Howard, continues to serve as a powerful warning about the dangers of social media and needing to be liked.
Season 6 in particular has us primed and ready as the cast is nothing short of star-studded. Helping to bring to life each story are Schitt's Creek's Annie Murphy, Atlanta's Zazie Beetz, Oppenheimer's Josh Hartnett and Magic Mike's Last Dance's Salma Hayek, just to name a few. — Terrell Smith
9. Only Murders in the Building season 3 (August 8)
Charles (Steve Martin), Oliver (Martin Short) and Mabel (Selena Gomez) and no longer just solving murders in the Arconia, as Only Murders in the Building season 3 takes its story to Broadway, where leading man Ben Glenroy (Paul Rudd) has mysteriously dropped dead on the night of Oliver's big premiere. OMITB is one of the best shows on TV right now thanks to the trio of Martin, Short and Gomez, and with the addition of Rudd, Meryl Streep and much of the returning ensemble, it may only be getting better. We're going to be obsessively dissecting the clues to try and figure out who killed Ben Glenroy, while also laughing hysterically at the antics of our amateur sleuths. — Michael Balderston
10. Love Island USA season 5 (TBD)
We can't wait for this admittedly guilty pleasure of summer (though as of publication we don't know when it is arriving). While the show doesn't have paid actors and award-winning writers, it is still one of the most entertaining series to watch on a hot night.
Sure, there are plenty of dating reality shows. From The Bachelor to Love Is Blind, there a number of programs featuring everyday people looking for romance. Love Island stands out because of the unique challenges the singles face and the fact a new episode airs almost daily. Plus, the fact that there is a monetary prize for the winning couple keeps things spicy as pairs rotate singles often.
With the success of Love Island season 4, we hope that season 5 will somehow manage to top even that. — Terrell Smith
---
These are the shows that we're most excited for this summer, but there's going to be plenty to choose from. To help out with that, here's a complete look at the summer TV schedule from May 24 through August (we'll update if more premiere dates are announced):
TV shows premiering in May
May 24
May 25
May 26
May 28
Killer Relationship with Faith Jenkins season 2 (Oxygen)
May 29
America's Hidden Stories (Smithsonian Channel)
Barons (The CW)
The Curious Case of Natalia Grace (ID)
FDR (History Channel)
Motel Rescue (Magnolia Network)
The Rising (The CW)
May 30
30 for 30: The American Gladiators Documentary (ESPN)
Bargain Mansions season 5 (Magnolia Network)
Doubling Down with the Derricos season 4 (TLC)
I Think You Should Leave with Tim Robinson season 3 (Netflix)
The Real Murders of Orange County season 3 (Oxygen)
May 31
Drag Me to Dinner (Hulu)
Ghost Adventures season 27 (Discovery)
Nancy Drew season 4 (The CW)
The Ultimate Fighter season 31 (ESPN)
TV shows premiering in June
June 1
The Days (Netflix)
The Dead Files season 15 (Travel Channel)
iCarly season 3 (Paramount Plus)
Lego Ninjago: Dragons Rising (Netflix)
June 2
June 3
Act Your Age season 1B (Bounce)
June 4
Battle on the Beach season 4 (HGTV)
The Eric Andre Show season 6 (Adult Swim)
The Idol (HBO)
Joe Pickett season 2 (Paramount Plus)
The Lazarus Project (TNT)
Magnolia Table season 7 (Magnolia Network)
June 5
The Age of Influence (Hulu)
America Ninja Warrior season 15 (NBC)
Crime Scene Kitchen season 2 (Fox)
Cruel Summer season 2 (Freeform)
Stars on Mars (Fox)
June 6
Beyond Skinwalker Ranch (History Channel)
Destination: European Nights (Paramount Plus)
June 7
Arnold (Netflix)
Secrets & Sisterhood: The Sozahdahs (Hulu)
Somewhere Boy (Hulu)
June 8
June 9
Bloodhounds (Netflix)
The Crowded Room (Apple TV Plus)
Human Resources season 2 (Netflix)
The Proof Is Out There season 3B (History Channel)
Tex Mex Motors (Netflix)
Tribunal Justice (Amazon Freevee)
June 11
The Food That Built America season 4B (History Channel)
The Tony Awards
June 12
Hey Yahoo (Game Show Network)
June 13
Love & Hip Hop: Atlanta season 11 (MTV)
Why the Heck Did I Buy This House (HGTV)
June 14
June 15
60 Days In season 8 (A&E)
Booked: First Day (A&E)
Look Into My Eyes (Sundance TV)
Outchef'd season 2 (Food Network)
Project Runway: All Stars (Bravo)
Star Trek: Strange New Worlds season 2 (Paramount Plus)
June 16
The Cabin Chronicles season 3 (Magnolia Network)
Outlander season 7 (Starz)
June 17
AEW: Collision (Max)
Extraordinary Birder with Christian Cooper (Nat Geo Wild)
June 18
Beachside Brawl season 2 (Food Network)
Endeavour season 9 (PBS)
The Great Food Truck Race: David vs Goliath season 16 (Food Network)
The Righteous Gemstones season 3 (HBO)
The Walking Dead: Dead City (AMC)
June 19
The Great American Recipe season 2 (PBS)
Not Quite Narwhal (Netflix)
June 21
June 22
The Bear season 2 (FX)
Downey's Dream Cars (Max)
Let's Get Divorced (Netflix)
Trippin' with Anthony Anderson and Mama Doris (E!)
June 23
Carpool Karaoke: The Series season 6 (Apple TV Plus)
I'm a Virgo (Prime Video)
Swagger season 2 (Apple TV Plus)
June 24
Love & Marriage: Detroit (OWN)
June 26
The Bachelorette season 20 (ABC)
Cannes Confidential (Acorn TV)
Claim to Fame season 2 (ABC)
June 28
Grown-ish season 6 (Freeform)
Hijack (Apple TV Plus)
June 29
The Chase season 3 (ABC)
Generation Gap season 2 (ABC)
Press Your Luck season 5 (ABC)
Secret Chef (Hulu)
Warrior season 3 (Max)
The Witcher season 3 part 1 (Netflix)
June 30
June TBD
TV shows premiering in July
July 5
July 6
Barnwood Builders season 17 (Magnolia Network)
July 7
The Horror of Dolores Ranch (Prime Video)
July 8
Capturing Home season 2 (Magnolia Network)
VC Andrews (Lifetime)
July 9
The $100,000 Pyramid season 7 (ABC)
Best in Chow (A&E)
Celebrity Family Feud season 10 (ABC)
Deliciously Twisted Classics (A&E)
Domina season 2 (MGM Plus)
July 10
The Ashley Madison Project (Hulu)
BBQ Brawl season 4 (Food Network)
BBQ USA season 2 (Food Network)
July 12
The Afterparty season 2 (Apple TV Plus)
July 13
Full Circle (Max)
Survival of the Thickest (Netflix)
July 14
July 16
Zoe Bakes season 3 (Magnolia Network)
July 18
American Outdoors with Baratunde Thurston season 2 (PBS)
Southern Storytellers (PBS)
July 21
Making Modern season 3 (Magnolia Network)
Minx season 2 (Starz)
Praise Petey (Freeform)
July 22
Established Home season 2 (Magnolia Network)
July 24
July 27
July 28
Good Omens season 2 (Prime Video)
Heels season 2 (Starz)
Secret Celebrity Renovation season 3 (CBS)
This Fool season 2 (Hulu)
July 30
When Calls the Heart season 10 (Hallmark Channel)
July TBD
Black Pop (E!)
Dark Winds season 2 (AMC)
TV shows premiering in August
August 2
August 3
August 6
Big Sky Kitchen season 2 (Magnolia Network)
Design Down Under (Magnolia Network)
Worst Cooks in America season 26 (Food Network)
August 8
Only Murders in the Building season 3 (Hulu)
August 9
August 10
The Challenge: USA season 2 (CBS)
Painkiller (Netflix)
August 30
August TBD
Get the What to Watch Newsletter
The latest updates, reviews and unmissable series to watch and more!
Michael Balderston is a DC-based entertainment and assistant managing editor for What to Watch, who has previously written about the TV and movies with TV Technology, Awards Circuit and regional publications. Spending most of his time watching new movies at the theater or classics on TCM, some of Michael's favorite movies include Casablanca, Moulin Rouge!, Silence of the Lambs, Children of Men, One Flew Over the Cuckoos Nest and Star Wars. On the TV side he enjoys Peaky Blinders, The Marvelous Mrs. Maisel, Saturday Night Live, Only Murders in the Building and is always up for a Seinfeld rerun. Follow on Letterboxd.